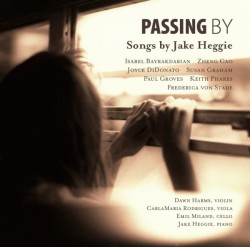 Title:
Passing By – Songs by Jake Heggie **
Artists:
Isabel Bayrakdarian, soprano
Zheng Cao, mezzo | Joyce DiDonato, mezzo
Susan Graham, mezzo | Frederica von Stade, mezzo
Paul Groves, tenor | Keith Phares, baritone
Dawn Harms, violin | CarlaMaria Rodrigues, viola
Emil Miland, cello | Jake Heggie, piano
Price:
£7.79 | 40% discount (usual price £12.99)
Summary:
"…the composer's own fluent piano-playing, an expert string group and a good if sometimes over-glossy recording provide support for some world-class singers…who are clearly revelling in the opportunities that Heggie has offered them here." – BBC Music magazine ★★★★★ 
"I can do scant justice to this collection in the space permitted but suffice it to say that these songs "sing" most ardently. Heggie is not afraid to acknowledge, indeed embrace, America's Broadway heritage…but he displays at all times a really composerly instinct in the way these songs are structured." – Gramophone

One of the leading American composers of his generation, Jake Heggie arrives on Avie with Passing By, a gorgeous collection of recent songs and duets performed by a stunning array of international singers and instrumentalists. Fresh from the extraordinary success of The Dallas Opera premiere of his opera Moby Dick – "a wonderful and rare reminder that new opera truly can excite people if it's done right," according to The Washington Post – Guggenheim Fellowship recipient Heggie describes this collection as "songs that tell stories about now and then. Reflections of family, friends and lovers passing by. A missed or mistaken connection, a moment when everything might have been different. People who entered our lives and would be there forever, then suddenly were not there at all."
Indelibly associated with his acclaimed operas, including Dead Man Walking (which made the Top 10 of Billboard's Classical Chart), Three Decembers and The End of the Affair, Jake's heart and soul lie in storytelling through song. With lyrics and poetry by the likes of A.E. Housman, Terrence McNally and Rilke, the songs of Passing By reflect the great American songbook tradition, replete with achingly beautiful melodies and striking observations of life's journeys.
As Passing By illustrates, Jake's music is championed by the most illustrious international signers, many of whom he has also collaborated with as a pianist. He has received commissions from San Francisco Opera, Houston Grand Opera, Dallas Opera, Carnegie Hall and the Los Angeles Philharmonic, and has had performances as far afield as Australia, Austria, Germany, Ireland and Sweden and South Africa.
Tracklist:
Passing By: Songs by Jake Heggie
poetry and texts by Charlene Baldridge, Raymond Carver, Jake Heggie, A.E. Housman, Vachel Lindsay, Armistead Maupin, Terrence McNally, Edna St. Vincent Millay, Rainer Maria Rilke, Eugenia Zukerman
1. A Lucky Child, from At the Statue of Venus (McNally) (5:44)
Susan Graham
Some Times of Day (Carver)
three songs for mezzo-soprano and piano trio
2. The Minuet (3:04)
3. Simple (3:53)
4. The Best Time of the Day (4:10)
Zheng Cao
Facing Forward/Looking Back
duets for two women and piano
5. Motherwit (Baldridge)* (4:27)
6. Grounded (Zukerman)** (4:09)
7. Mother in the Mirror (Maupin)* (3:18)
8. Facing Forward (Heggie)** (4:29)
Frederica von Stade with Susan Graham* and Joyce DiDonato**
Here and Gone
songs and duets for tenor, baritone and piano quartet
9. The Farms of Home (Housman) (4:32)
10. In Praise of Songs That Die (Lindsay) (2:59)
11. Stars (Housman) (1:53)
12. The Factory Window Song (Lindsay) (2:32)
13. In the Morning (Housman) (1:00)
14. Because I Liked You Better (Housman) (3:06)
15. The Half-Moon Westers Low (Housman) (3:26)
Paul Groves and Keith Phares
16. To Say Before Going to Sleep (Rilke, trans. by A.E. Flemming) (2:48)
Joyce DiDonato
Songs and Sonnets to Ophelia
17. Ophelia's Song (Heggie) (2:39)
18. Women Have Loved Before (Millay) (3:20)
19. Not in a Silver Casket (Millay) (2:17)
20. Spring (Millay) (3:23)
Isabel Bayrakdarian
21. Final Monologue from Master Class (McNally) (6:28)
Joyce DiDonato
Total time: 73:37
Producer and Digital Editor: Steve Barnett (Barnett Music Productions, Minneapolis, MN)
Recording Engineer: Preston Smith (Perfect Record, St. Paul, MN)
Assistant Engineer: Dan Thompson
Recorded at Skywalker Sound, Nicasio, CA: June 21-24, 2007; January 12-13, 2008