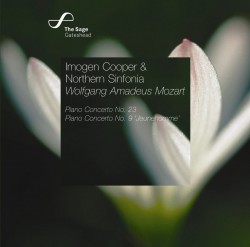 Title:
Piano Concertos No. 9 and No. 23
Artists:
Imogen Cooper, piano and director
Northern Sinfonia
Summary:
This release inaugurated a new series with the Northern Sinfonia with the first commercial recording to be made at the spectacular Sage Gateshead, the landmark waterfront venue on Tyneside. In residence at the Sage Gateshead since its opening in 2004, the award-winning Northern Sinfonia's dynamic approach to programmes, performances and recordings have earned them plaudits aplenty. The poetic pianist Imogen Cooper has a close association with Northern Sinfonia and the Sage Gateshead, having chosen the Steinway piano for the venue which she performs on this live recording.
Tracklist:
Wolfgang Amadeus MOZART (1756 – 1791)
Concerto for Piano and Orchestra No. 23 in A Major, K488 )
1. I Allegro (11:52)
2. II Adagio (6:57)
3. III Allegro assai (8:30)
Concerto for Piano and Orchestra No. 9 in E-flat Major, K271 'Jeunehomme'
4. I Allegro (10:50)
5. II Andantino (12:49)
6. III Rondeau: Presto (10:56)
Total time: 62:00
Recorded 18 – 19 October 2005, live in concert at the Sage Gateshead, Newcastle, England
Recording producer/balance engineer: Andreas Ruge
Recording engineer: Fabian Frank