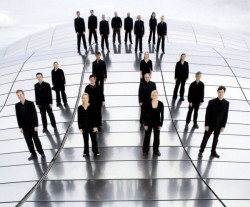 Biography:
Royal Northern Sinfonia, Orchestra of Sage Gateshead, is the UK's only full-time chamber orchestra and the leading professional orchestra in the North East. Since its inception in 1958, it has built a distinctive reputation as a fresh-thinking and versatile orchestra, performing with a trademark zest and stylistic virtuosity. It is the only UK orchestra to have a purpose-built home for all its rehearsals, concerts and recordings, with acoustics rated by Lorin Maazel as 'in the top five best halls in the world'.
Playing a wide repertoire of thrilling, diverse orchestral music, RNS works regularly with a roster of globally renowned artists from all genres. In recent years, these have included Sir Mark Elder, Pierre Laurent-Aimard, Yannick Nézet-Séguin and Ian Bostridge, as well as leading popular voices such as Sting, The Pet Shop Boys and Efterklang. The orchestra also contributes to the continuing re-invention of orchestral repertoire with regular commissions and premieres, most recently from Benedict Mason and David Lang, John Casken and Kathryn Tickell.
Open in its approach and broad in its reach, Royal Northern Sinfonia engages audiences and communities throughout its own region as well as further afield, with residencies at festivals from Aldeburgh to Hong Kong, as well as regularly featuring in the BBC Proms and neighbouring Edinburgh Festival. Back home at Sage Gateshead, Royal Northern Sinfonia works with adults of all ages and young people, through the Young Musicians programme and In Harmony project both of which provide unbeatable instrumental learning opportunities.
In September 2014, Royal Northern Sinfonia welcomed Lars Vogt as Music Director Designate, taking up the Music Director post from September 2015. Lars Vogt is an artist whose virtuosity and commitment to communicating the deepest values of orchestral music knows no bounds. He follows in the foot-steps of Conductor Laureate, Thomas Zehetmair, whose twelve year tenure has had a profound impact on the orchestra's style, with his maxim always to perform "as if the ink was still wet on the page."
Following appearances in three out of four films in Howard Goodall's Channel 4 series, 'How Music Works', recent recordings include a highly praised Brahms and Schumann CD – chosen by BBC Music magazine as Disc of the Month in July 2007 under the heading "Zehetmair's daring success", and the 2006 release of recordings of Mozart Piano Concertos with Imogen Cooper, also recorded at The Sage Gateshead and winning five star reviews in Classic FM magazine and The Sunday Telegraph.