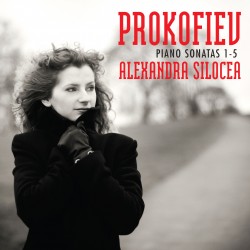 Summary:
Avie introduces the brilliant young Romanian pianist Alexandra Silocea who offers some of her signature repertoire on her debut recording, the first five Piano Sonatas of Prokofiev. Dubbed "Alexandra the Great" by Gramophone who announced her debut recording, the 26-year-old trained in Vienna and Paris, and is now resident in the UK. In 2003, while studying at Vienna University for Music and Performing Arts, she was awarded the Herbert von Karajan Scholarship, the latest in a string of prizes from competitions throughout Europe. Alexandra made her professional debut in 2008 with the Vienna Chamber Orchestra. Recital debuts followed in 2009 at the Musikverein in Vienna, Carnegie Hall's Weill Recital Hall in New York, and le Salon de Musique in Paris.
Alexandra says: "This debut recording serves as a journey through my own musical path. The aim of recording Prokofiev's first five piano sonatas together was to show all the facets of his musical personality, from Op. 1 to Op. 135, which is the revised version of Sonata No. 5, one of the last works he completed before his death in 1953. Each Sonata is so different, so original, with such care for detail that whenever I play or listen to this music it is a revelation.
"My aim is to give an interpretation very faithful to the score, without unnecessary or superficial effects. I have experienced quite some resistance in programming these works but I hope that with this recording, listeners will discover more than they imagined. It is a ride through an impressive musical landscape and one where you should not be able to get off!"
This recording extends the legacy of the late producer John Barnes, who introduced the pianist to Avie. An insatiable scout for young talent, Barnes also worked for decades behind the scenes at Glyndebourne, recording every production for the company archives. His successor at Glyndebourne, Sebastian Chonion, has produced Alexandra's debut recording.
Tracklist:
Sergei PROKOFIEV (1891 – 1953)
Piano Sonatas Nos. 1 – 5
Sonata No. 1 Op. 1 in F minor
1. Allegro (7:41)
Sonata No. 2 Op. 14 in D minor (17:55)
2. I Allegro, ma non troppo (5:49)
3. II Scherzo: Allegro marcato (1:51)
4. III Andante (5:31)
5. IV Vivace- Moderato- Vivace (4:44)
Sonata No. 3 Op. 28 in A minor
6. Allegro tempestoso- Moderato- Allegro tempestoso (7:19)
Sonata No. 4 Op. 29 in C minor (16:33)
7. I Allegro molto sostenuto (5:41)
8. II Andante assai (7:16)
9. III Allegro con brio, ma non leggiere (3:36)
Sonata No. 5 (revised edition) Op. 135 in C Major (15:29)
10. I Allegro tranquillo (6:08)
11. II Andantino (4:49)
12. III Un poco allegretto (4:32)
Total time: 65:16
Recorded September 2010, St. Dunstan Church, Mayfield, East Susses, England
Produced and edited by Sebastien Chonion