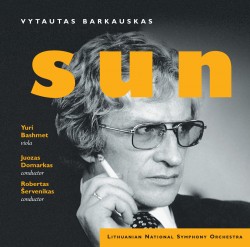 Artists:
Yuri Bashmet, viola
Robertas Šervenikas, conductor
Juozas Domarkas, conductor
Lithuanian National Symphony Orchestra
Price:
£7.79 | 40% discount (usual price £12.99)
Summary:
Sun, the second album on AVIE to feature the works of Lithuania's foremost living composer Vytautas Barkauskus, presents orchestral music composed at the end of the 20th century. For Barkauskus, this period was personally marked by great shifts and complications brought on by Lithuania's declaration of independence from the Soviet Union. In 1931, Barkauskus had been born into a free, independent Lithuania; the events of 1990 made it possible that he would live the remainder of his life in a once-again free country. Musically, the composer's oeuvre of that period is closely related to this historic time. This music speaks of such timeless thoughts as the spiritual world of an individual and an artist, his struggle with the oppressing routine, about the collisions of human fate. The music is not programmatic per se, but it is dynamic, evocative, colourful, impactful. It includes the Concerto for Viola and Chamber Orchestra, written for – and indeed in collaboration with – the world's leading viola virtuoso, Yuri Bashmet. Konzertstück No. 2 is one of Barkauskus' most popular orchestra works. Symphony No. 5, with its exceptionally expressive and tragic moods, was written in the wake of the Chernobyl disaster. The title track is a colourful, picturesque concerto for orchestra with symbolic implications: in the Lithuanian language "the world" means "under the sun".
The first AVIE release to feature the music of Barkauskus was inspired by violinist Philippe Graffin and includes the world-premiere recording of the Duo Concertante for violin, viola and orchestra, with leading Japanese violist Nobuko Imai; Two Monologues for viola solo which are dedicated to Imai; and Jeux for Violin and Orchestra which is dedicated to Graffin.
Tracklist:
Vytautus BARKAUSKAS (b. 1931)
1. Sun for symphony orchestra, Op. 69 (1983 / 1995) (8:41)
Concerto for Viola and Chamber Orchestra, Op. 63 (1981) (24:09)
Dedicated to Yuri Bashmet
2. Cadenza (9:07)
3. Largo (9:05)
4. Coda (5:57)
Symphony No. 5, Op. 81 (1986) (34:50)
5. 1st movement (9:52)
6. 2nd movement (5:40)
7. 3rd movement (6:58)
8. 4th movement (7:50)
9. 5th movement (4:30)
10. Konzertstück Für Orchester, No. 2 / Op. 103 (1994 / 1996) (8:15)
Dedicated to Juozas Domarkas
Total time: 75:55
Yuri Bashmet, viola (2-4)
Robertas Šervenikas, conductor (1-9)
Juozas Domarkas, conductor (10)
Lithuanian National Symphony Orchestra (1-10)
Track 1 recorded 8 January 2007 in studio conditions at the Lithuanian National Philharmonic Hall, Vilnius
Recording Engineer: Mikhail Omelyanchuk
Tracks 2 – 4 recorded live, 6 April 2001, at the Lithuanian National Philharmonic Hall, Vilnius, during Viola Music Week
Recording Engineer: Jonas Masanauskas (Lithuanian National Radio)
Tracks 5 – 9 recorded 9 January 2007 in studio conditions at the Lithuanian National Philharmonic Hall, Vilnius
Recording Engineer: Mikhail Omelyanchuk
Track 10 recorded live, 16 November 1996 at the Lithuanian National Philharmonic Hall, Vilnius
Recording Engineer: Ricardas Legaudas (Lithuanian National Radio)