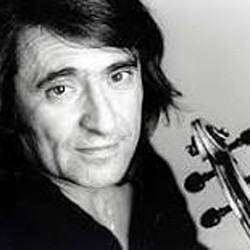 Biography:
Yuri Bashmet (b. 1953) is one of the most renowned contemporary viola players. His international career was launched in 1976 when the twenty-three-year-old won the International Viola Competition in Munich. He was the first violist to appear in recitals at prestigious halls, such as Carnegie Hall, Concertgebouw, La Scala, Albert Hall, and the Great Hall of the Moscow Conservatory. The talented violist became the youngest musician to receive the Professorship at the Moscow Conservatory in 1978. Since then, he has also led numerous master classes in Europe, Japan, the USA and Hong Kong.
Hailed as Viola Paganini, he regularly performs with the world's leading soloists, orchestras and conductors. As a soloist and conductor he has appeared with the Dresden Philharmonic, Tokyo Philharmonic, Orchestra Sinfonica Milano Giuseppe Verdi, Residentie Orkest Den Haag, Camerata Salzburg, Scottish Chamber Orchestra, Saint Paul Chamber Orchestra and the Orchestra del Maggio Musicale Fiorentino. In 2003, he inaugurated the Vilnius Festival Orchestra in Lithuania, the same year his chamber orchestra Moscow Soloists celebrated its 15th anniversary this year.
Yuri Bashmet is a frequent visitor to various festivals in Russia, France, Germany, Italy, Great Britain, Finland, Bulgaria, the USA, Australia, and elsewhere. He holds his own festival in Rolandseck near Bonn (Germany). Since 1980, he has been paying annual visits to the Tours Festival (France) where he has appeared as a chamber musician and soloist with the symphony orchestra, conducted orchestra and choir. In 1993, he took the position of the festival's artistic director.
Bashmet has been the inspiration (if not the commissioner) for a number of contemporary works by Alfred Schnittke, Sofia Gubaidulina, Giya Kancheli, Alexander Raskatov, Vytautas Barkauskas, Mark-Anthony Turnage. His list of awards includes Best Musician of the Year (London, 1993) and Léonie Sonnings Prize (Copenhagen, 1995). He was conferred honourable titles and orders of the states of France, Lithuania, Italy and Russia.