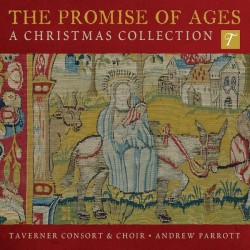 Artists:
Andrew Parrott
Taverner Consort & Choir
Summary:
Andrew Parrott's and his Taverner Consort & Choir's timeless collection of Christmas music, The Promise of Ages, spans seven decades of holiday melodies both devotional and festive, including traditional carols from the British Isles, Medieval chants and Renaissance hymns, and the responses of 20th century composers to ancient seasonal poetry.
Seamlessly melding religious with secular texts, and high art music with folk traditions, this reissue includes such favourites as the traditional Deck the Hall arranged for solo Welsh harp, There is No Rose from Britten's A Ceremony of Carols as well as the popular 15th-century setting, and I Wonder as I Wander intoned by Emily Van Evera's beautifully pure soprano. There are also plenty of delights and discoveries in this enduring and exquisite collection of holiday fare.
Tracklist:
'C.B.' ?Charles Burney (1726-1824)
1. Hark! The Herald Angels Sing (2:48)
Welsh Traditional
2. Nos Galan (Deck the Hall) (3:45)
   Arr. Edward Jones, 1784
Frances Kelly Welsh harp
John Jacob Niles (?) (1892-1980)
3. Lullay, Thou Tiny Little Child (1:59)
15th Century (Trinity Roll)
4. Ther Is No Rose of Swych Vertu (3:53)
Gustav Holst (1874-1934)
5. I Sing of a Maiden (1:58)
Benjamin Britten (1913-1976)
6. There Is No Rose (2:48)
from A Ceremony of Carols
Peter Maxwell Davies (b. 1934)
7. O magnum mysterium (1:55)
Medieval Chant (13th/14th century)
8. Song of the Nuns of Chester (verses 1-3) (1:29)
(Qui creavit celum)
Maxwell Davies
9. The Fader of Heven (1:42)
Medieval Chant (13th/14th century)
10. Song of the Nuns of Chester (verses 4-6) (1:30)
(Lactat mater Domini)
Maxwell Davies
11. O magnum mysterium (2:14)
15th Century (Ritson's Manuscript)
12. Lullay, Lullow: I Saw a Swete Semly Syght (2:40)
Niles (?)
13. I Wonder as I Wander (2:23)
Emily Van Evera soprano
Traditional
14. Staines Morris (Blessed Be That Maid Marie) (2:24)
15th Century (Trinity Roll)
15. Hayle, Mary, Ful of Grace (3:47)
English Traditional
16. The Seven Joys of Mary (1:00)
Judith Weir (b. 1948) arr. Andrew Parrott
17. Illuminare, Jerusalem (2:11)
Irish Traditional
18. Good People All, This Christmastide (3:22)
Paul O'Shaughnessy fiddle
Niles (?)
19. Sing We the Virgin Mary (2:12)
Ralph Vaughan Williams (1872-1958)
20. In Bethlehem City (4:16)
Irish Traditional
21. Christmas Eve
Chant
22. Hodie Christus natus est  (1:00)
Antiphon from Chester Processional
Holst
23. Jesu, Thou the Virgin-born (3:17)
Britten
24. As Dew in Aprille (1:07)
from A Ceremony of Carols
Martin Madan (1726-1790)
25. Lo! He Comes, with Clouds Descending (3:48)
Total Time: 62:17

Recorded May 5 – 9, 1998, in St. Jude-on-the-Hill Church, London
Producer and Englineer: John Hadden