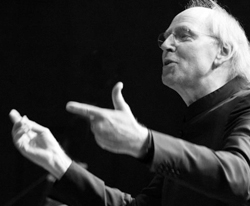 Biography:
Conductor Andrew Parrott is perhaps best known for his pioneering recordings of pre-classical repertory from Machaut to Handel, with the London-based Taverner Consort, Choir and Players, which he founded in 1973. He has also published major articles on Monteverdi, Purcell and Bach, and is co-editor of the 700-page New Oxford Book of Carols (1992) and author of The Essential Bach Choir (2000; German translation: Bachs Chor: Zum neuen Verständnis 2003). A CD of his reconstruction of Bach's 'lost' Trauer-Music for Prince Leopold of Anhalt-Cöthen was released in 2011.
But Parrott's musical range is broader still. A former music director of both The London Mozart Players and the period-instrument  New York Collegium, he has in recent years recorded in Slovakia (both 19th-century and contemporary Slovak music) and in Sweden (Beethoven's complete piano and orchestral works, with Ronald Brautigam). For Toronto's Opera Atelier Parrott has conducted seven productions (Lully, Gluck, Mozart).
Contemporary music has always been an important part of  Parrott's work and for several years he was an assistant to Sir Michael Tippett. He conducted the premiere of Judith Weir's A Night at the Chinese Opera (which he has also recorded for NMC with the Scottish Chamber Orchestra) and has made CDs of new music by other British composers (including John Tavener), by Vladimír Godár (with the Slovak Philharmonic Orchestra) and by Arvo Pärt.