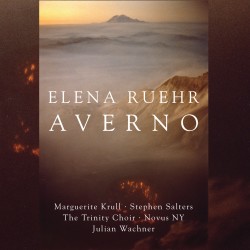 Artists:
The Trinity Choir with Novus NY
Julian Wachner, conductor
Marguerite Krull, soprano
Stephen Salters, baritone
Summary:
Composer Elena Ruehr's first release for Avie assembles vocal and choral works inspired by three distinctive American poets – Louise Glück, Emily Dickinson and Langston Hughes. The title work, Averno, is a cantata that sets 11 poems of the Pulitzer Prize-winning Glück's collection of the same name, which is a retelling of the story of Demeter, goddess of the earth, and her daughter Persephone. Ruehr's score deftly conjures ancient themes in a modern idiom. The miniatures Cricket, Spider, Bee paint a vivid, aural picture of Dickinson's scenic natural world. The large scale GOSPEL CHA-CHA sets Langston Hughes' expansive and socially critical late poetry, evoking African dances and drumming, and the Harlem Renaissance of the 1960s with improvisatory flair. The works are performed by acclaimed New York-based Trinity Choir under their dynamic Music Director Julian Wachner, and Trinity's new music ensemble Novus NY. The superb soloists are soprano Marguerite Krull and baritone Stephen Salters.
Elena Ruehr studied at the University of Michigan and The Juilliard School. She composed Averno while a fellow at Harvard's Radcliffe Institute. She was composer-in-residence of The Boston Modern Orchestra Project. He oeuvre includes works for chamber ensemble, orchestra, chorus, wind ensemble, instrumental solo, opera, dance and silent film. Since 1991, Dr. Ruehr has taught at MIT.
Tracklist:
Elena RUEHR (b.1963)
Averno (Louise Glück)
1. The Night Migrations (1.29)
2. October (2.55)
3. The Evening Star (2.44)
4. Landscape (2.34)
5. Landscape (5.48)
6. Landscape (3.35)
7. Averno (3.47)
8. Omens (1.38)
9. Telescope (2.23)
10. Thrush (2.25)
11. Persephone the Wanderer (13.45)
Cricket, Spider, Bee (Emily Dickinson)
12. The cricket sang (2.08)
13. A spider sowed at night (2.33)
14. To make a prairie (3.11)
15. Gospel Cha Cha (Langston Hughes) (16.14)
Total time: 67.26
Recorded at Trinity Church, Wall Street, May 2011, and at the Skywalker Sound scoring stage, July 2011
Producers: Elena Ruehr and Mark Willsher
Recording Engineer: Mark Willsher
Assistant Recording Engineers: Judy Kirschner and Soundbyte Productions, Inc.