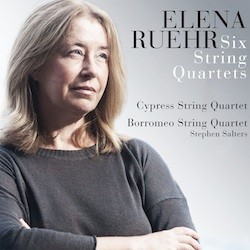 Title:
Ruehr: Six String Quartets
Artists:
The Cypress String Quartet
The Borromeo String Quartet
Stephen Salters, baritone
Summary:
For Guggenheim Fellow composer Elena Ruehr the appeal of the string quartet lies in the ability of four instruments to express an infinite range of emotional possibilities, to communicate across time. Her six string quartets attest to her enthusiasm for musical time-travel: echoes of Perotin, Bach, Mozart, Beethoven, Dvořák, Schoenberg and jazz are there, but the musical language is purely her own. Elena's Six String Quartets are a magnum opus, three of them commissioned by the Cypress String Quartet, two by the Rockport Chamber Music Festival, and one an ASCAP Award winner.
Tracklist:
Elena Ruehr (b. 1963)
CD 1
String Quartet No. 5 (Bel Canto) (26:25)
commissioned by the Cypress String Quartet
1. I. Rebels in the vents (1:18)
2. II. Three generals (1:05)
3. III. Esmeralda and Joachim (2:37)
4. IV. The accompanist dies (1:39)
5. V. Simon Thibault makes coq au vin (0:50)
6. VI. Gen translates for Roxanne (2:54)
7. VII. Carmen studies grammar (2:56)
8. VIII. Gen arranges a meeting (1:35)
9. IX. Cesar sings (1:15)
10. X. In the garden (10:19)
String Quartet No. 3 (23:32)
commissioned by the Rockport Chamber Music Festival
11. I. Clay Flute (3:55)
12. II. The Abbey (8:55)
13. III. How She Danced (4:12)
14. IV. Bell Call (6:31)
String Quartet No. 1 (20:49)
Winner ASCAP Award
15. I. Patterns (7:39)
16. II. Interlude (3:35)
17. III. Let's Sit Beneath the Stars (5:27)
18. IV. Estampie (4:09)
Total time CD 1: 70:57
CD 2
1. Song of the Silkie (String Quartet No. 2) (15:21)
commissioned by the Rockport Chamber Music Festival
String Quartet No. 6 (23:20)
commissioned by the Cypress String Quartet
2. I. Restless (7:15)
3. II. For Todd (3:20)
4. III. Idée fixe (7:30)
5. IV. Finale (5:18)
String Quartet No. 4 (30:31)
commissioned by the Cypress String Quartet
6. I. Sonata:  Introduzione; Andante con moto (7:27)
7. II. Aria: Andante (7:04)
8. III. Minuet: Grazioso (7:57)
9. IV. Finale: Allegro molto (8:04)
Total time CD 2: 69:24
Recorded 6-7 September 2007 (CD2, tracks 6-9), 17-18 and 20-21 December 2007 (CD1, tracks 11-18), 23-24 May 2010 (CD1, tracks 1-10), 17-18 December 2015 (CD2, tracks 2-5) at Skywalker Sound Scoring Stage, San Rafael, California; Producer: Cecily Ward; Recording & Mastering Engineer: Mark Wilsher; Assistant Engineer: Dann Thompson
Recorded 10-12 August 2017 (CD2, track 1) at Futura Productions, Roslindale, Massachusetts; Producer: Cecily Ward; Recording Engineer: John Weston; Mixing & Mastering Engineer: Mark Wilsher; Assistant Engineers: Alec Seymour, Jacob Steingart