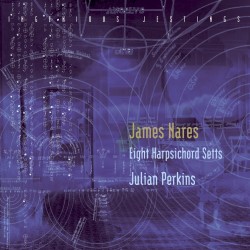 Artists:
Julian Perkins, harpsichord
Summary:
From performances at the Handel Halle Festival to a solo at the Paris Fashion Show for Alexander McQueen, Julian Perkins pursues a diverse and demanding career. Primarily a Baroque and early Classical music specialist, he performs with leading singers, ensembles and opera companies in the UK and abroad.
Here he offers the first complete recording of James Nares's eight brilliant harpsichord setts (suites) from 1747. Organist of the Chapel Royal, James Nares epitomized the late English Baroque style, one which takes after the keyboard sonatas of Domenico Scarlatti and Thomas Arne.
Thanks to the generosity of The Royal Collection, much of this music was recorded using the Queen's rare and newly-restored Shudi harpsichord at Kew Palace. Built in 1740, this harpsichord is one of Shudi's earliest and most lavish instruments. It is perhaps the only harpsichord whose quills are taken from the ravens of the Tower of London. Julian Perkins also plays on an original Kirckman harpsichord, generously loaned to the Royal Academy of Music by the Beare family.
Tracklist:
James NARES (1715–1783)
Eight Setts of Lessons for the Harpsichord (London, 1747)
Dedicated to the Earl of Abingdon
No. 1 in G major (8:07)
1. Prelude (1:45)
2. Allemand (2:17)
3. Minuet and 3 Variations (4:05)
No. 2 in D major (7:18)
4. Allegro (2:22)
5. Larghetto (1:32)
6. Allegro (1:15)
7. Jigg (2:09)
No. 3 in B-flat major (9:22)
8. Fuga (2:15)
9. Largo (1:25)
10. Presto (4:29)
11. Gavot (1:13)
No. 4 in F major (8:26)
12. Allegro (3:45)
13. Andante (2:37)
14. Jigg (2:04)
George Frideric HANDEL (1685–1759)
Suite in D minor, HWV 447 (8:54)
15. Allemande (2:38)
16.Courante (1:55)
17. Sarabande (3:03)
18. Gigue (1:18)
NARES
No. 5 in A major (7:51)
19. Allegro (2:58)
20. Larghetto (2:35)
21. Allegro Spiritoso (2:18)
No. 6 in E major (7:16)
22. Allemand (4:15)
23. Courant (1:26)
24. Gavot (1:35)
No. 7 in G major (6:52)
25. Presto (1:54)
26. Fuga (3:02)
27. Jigg (1:56)
No. 8 in A major (11:10)
28. Allegro (4:00)
29. Allemand (3:15)
30. Gig (3:55)
Total time: 75:56
Recorded 12–14 November 2007 in The Queen's Drawing Room at Kew Palace, London
Produced and engineered by Adrian Hunter