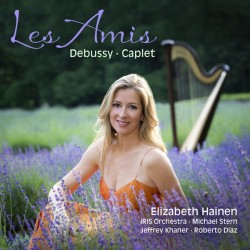 Artists:
Elizabeth Hainen, harp
Michael Stern
IRIS Orchestra
Jeffrey Khaner, flute
Roberto Diaz, viola
Price:
£7.49 - 40% off - Limited time only!
Summary:
Principal Harpist of the Philadelphia Orchestra Elizabeth Hainen's first release for AVIE spanned three centuries of Harp Concertos (AV 2221). Her new Kickstarter-funded release, Les Amis, features a rare pairing of works by Claude Debussy and André Caplet, exploring the composers' friendship through their respective works Danse sacrée and Danse profane, and the evocative Masque of the Red Death, with Michael Stern and the IRIS Orchestra. Rounding out the recording, Elizabeth solos with a transcription of Debussy's Petite Suite, originally for solo piano, and Caplet's Divertissements, and is joined by her own amis, fellow Philadelphia Orchestra principal flautist Jeffrey Khaner and violist Roberto Diaz, President of the Curtis Institute, in Debussy's Trio Sonata for Flute, Viola and Harp.
Tracklist:
Claude Debussy (1862 – 1918)
1. Danse sacrée (4:50)
2. Danse profane (5:11)
Petite suite
3. I En bateau (3:55)
4. II Cortège (4:13)
5. III  Menuet (3:36)
6. IV Ballet (3:57)
Trio Sonata for Flute, Viola and Harp
7. I Pastorale. Lento, dolce rubato (6:34)
8. II Interlude Tempo di Minuetto (5:36)
9. III Finale. Allegro moderato ma risoluto (4:58)
André Caplet (1878 – 1925)
Divertissements
10. I  À La Française (4:42)
11. II À L'Espagnole (5:44)
12. Conte Fantastique – The Masque of the Red Death (16:52)
Total time: 70:07
Tracks 1, 2 and 12 recorded February 14, 2013, Germantown Performing Arts Centre, Germantown, TN
Tracks 3 – 11 recorded March 28 and 29, 2013, Gould Rehearsal Hall, The Curtis Institute of Music, Philadelphia, PA
Recording producer and engineer: Da-Hong Seetoo