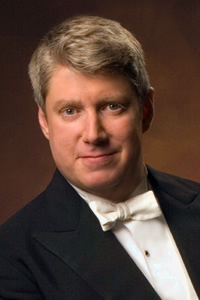 Biography:
Conductor Michael Stern is in his eighth season as music director of the Kansas City Symphony, hailed for its remarkable artistic growth and development since his tenure began. The Kansas City Symphony's second CD for award-winning audiophile label Reference Recordings, titled Britten's Orchestra, won a 2011 Grammy award in the 'Surround Sound Album' category, and producer David Frost won 'Producer of the Year, Classical.' The Symphony and Mr Stern have also recorded for the Naxos label.
Mr Stern is also the founding artistic director and principal conductor of IRIS Orchestra in Germantown, Tennessee. Other positions include a tenure as the chief conductor of Germany's Saarbrücken Radio Symphony Orchestra (the first American chief conductor in the orchestra's history) and as Permanent Guest Conductor of the Orchestre National de Lyon in France, a position which he held for five years, and a stint as the Principal Guest Conductor of the Orchestre National de Lille, France. He has led orchestras throughout America, Europe and Asia.
Mr Stern received his music degree from the Curtis Institute of Music in Philadelphia, where his major teacher was the noted conductor and scholar Max Rudolf. He co-edited the third edition of Rudolf's famous textbook, The Grammar of Conducting, and also edited a new volume of Rudolf's collected writings and correspondence. He is a graduate of Harvard University, where he earned a degree in American History.
Upcoming Concerts:
Michael Stern has no upcoming tour dates. Please check back soon.