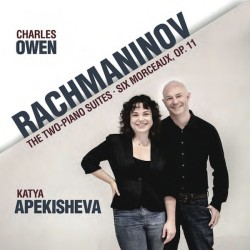 Title:
The Two-Piano Suites, Six Morceaux
Artists:
Charles Owen and Katya Apekisheva, pianos
Summary:
Pianist Charles Owen and his regular duo partner Katya Apekisheva turn to Rachmaninov's diverse Suites for two pianos, and the composer's atmospheric Six Morceaux, for their first joint recording for AVIE. The co-founders of the London Piano Festival delve into the quintessentially Russian Suite No. 1, also known as "Fantasise-Tableaux", with its poetic inspirations, and the more traditional Suite No. 2 which marked Rachmaninov's compositional comeback after a four-year hiatus. Rounding out the album, Charles and Katya share the piano bench for the atmospheric piano-four hands Six Morceaux.
Tracklist:
Sergei Rachmaninov (1873–1943 )
Fantaisie-tableaux, Op. 5 (Suite No.1) for two pianos
1. I. Barcarolle: Allegretto (7.57)
2. II. La Nuit, l'Amour: Adagio sostenuto (5.53)
3. III. Les Larmes: Largo di molto (6.05)
4. IV. Pâques: Allegro maestoso (2.53)
Suite No. 2, Op. 17 for two pianos
5. I. Introduction: Alla marcia (4.06)
6. II. Valse: Presto (6.29)
7. III. Romance: Andantino (6.58)
8. IV. Tarantelle (6.10)
Six Morceaux, Op.11 for piano, four hands
9. I. Barcarolle (5.04)
10. II. Scherzo (2.53)
11. III. Thème russe (4.10)
12. IV. Valse (4.06)
13. V. Romance (3.04)
14. VI. Slava! (4.36)
Recorded: 5–8 August 2017, Hall One, King's Place, London

Producer: Matthew Bennett

Recording engineer & editing: Dave Rowell