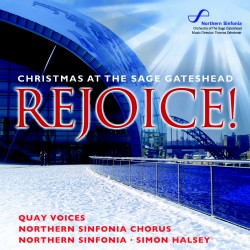 Artists:
Northern Sinfonia
Simon Halsey, conductor
Northern Sinfonia Chorus
Quay Voices
Summary:
Ring in the season with Rejoice!: Christmas at The Sage Gateshead, with resident orchestra Northern Sinfonia conducted by Simon Halsey and joined by the amassed Northern Sinfonia Chorus and youth choir Quay Voices. This festive live recording features something for everyone – traditional carols such as The First Nowell, Hark! The Herald Angels Sing and O Come All Ye Faithful, popular tunes including Sleigh Ride and Jingle Bells, and modern favourites such as Howard Goodall's The Lord is my Shepherd – making it the perfect stocking filler for far-flung family and friends.
Tracklist:
REJOICE!
Christmas at the Sage Gateshead
1. Roderick ELMS Fanfare da Festa (1:29)
2. Arr. Roderick Elms O Come, O Come Immanuel (3:26)
3. J.G. EBERLING All My Heart This Night (2:11)
4. Arr. WILLCOCKS The Sussex Carol (1:40)
5. Arr. Willcocks The First Nowell (4:48)
6. CHILCOTT The Marvellous Birth (3:07)
7. Trad/VAUGHAN WILLIAMS O Little Town of Bethlehem (2:50)
8. Arr. HESKETH In Dulci Jubilo (4:38)
9. Trad Hark! The herald angels sing (2:42)
10. ANDERSON Sleigh Ride (3:12)
11. GOODALL The Lord is my Shepherd (2:40)
12. MATHIAS Wassail Carol (1:48)
13. Trad Good King Wenceslas (2:37)
14. Arr. Chilcott Jingle Bells (1:58)
15. FLETCHER Ring Out, Wild Bells (5:12)
16. Trad O Come All ye Faithful (3:12)
17. Arr. Chilcott We Wish You a Merry Christmas (2:08)
Total time: 49:48
Recorded live in concert, 12 and 13 December 2009, in Hall One of The Sage Gateshead, Newcastle, UK
Producer: Simon Fox