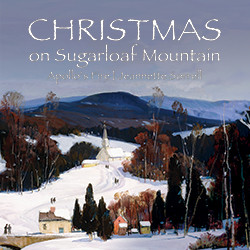 Title:
Christmas on Sugarloaf Mountain
Artists:
Apollo's Fire
Jeannette Sorrell, director
Amanda Powell, soprano
Ross Hauck, tenor
Jeffrey Strauss, baritone
Apollo's Singer's, Apollo's Musettes
Summary:
Following the release of the award-winning Sugarloaf Mountain: An Appalachian Gathering (AV2329), which was a Top 5 Billboard Classical Crossover hit, Jeannette Sorrell and Apollo's Fire present Christmas on Sugarloaf Mountain. In this celebration of the American immigrant experience, fiddlers, medieval harp, hammered dulcimer, bagpipes and singers join with children's voices to evoke the Celtic roots of an Appalachian Christmas. From Christmas Eve in medieval Scotland to folk carols and shape-note hymns at a toe-tapping Christmas gathering in Virginia, Apollo's Fire follows the journeys of the Irish and Scottish settlers who bravely crossed the Atlantic, settled in the mountains and welcomed Christmas with love, singing, dancing and prayer.
Tracklist:
I. CHRISTMAS EVE AT THE CROSSROADS
1. Christmas Eve Reel (trad. Irish) / Christmas In America (trad. New England) / Old Christmas Eve (trad. Appalachian) – arr. J. Sorrell (3.22)
II. CELTIC MEMORIES: Christmas Eve in Old Ireland
2. The Truth Sent from Above – (trad. British Isles) – lyrics & arrangement by J. Sorrell (5.28)
3. Sheep under the snow / Apples in Winter / Little Christmas Reel (trad. Irish) – arr. R. Schiffer & S.P. Gilmore (4.15)
4. Blow, Northern Wind – Medieval English Lyric, arr. B. Kay (3.30)
5. Don Oiche úd I mBeithil (That Night in Bethlehem) (1.52)
6. That Night in Bethlehem (Don Oiche úd i mBeithil) (trad. Gaelic) – arr. J. Sorrell (3.39)
7. Nowell Sing We, Both All and Some (Medieval English) – arr. J. Sorrell (1.48)
III. CAROLING ACROSS THE WATERS
8. Innesheer / Ships in Full Sail + I Saw Three Ships / New Christmas Reel (trad. Irish) – arr. K. Stewart (3.50)
9. Yorkshire Carol / Somerset Wassail (trad. British Isles) / Kentucky Wassail (trad. Appalachian) – arr. J. Sorrell (5.45)
IV. CHRISTMAS MORNING IN APPALACHIA
10. Bright Morning Stars (Southern folk hymn) (3.12)
11. Christ Child's Lullaby (Talladh Chriosta) (trad. Scottish & Appalachian) – arr. J. Sorrell & A. Powell (5.47)
12. Frost & Snow / 28th of January / Dominion Reel (trad. Old-Time) – arr. R. Schiffer & T. Bergmann (3.56)
13. Jesus Born in Beth'ny (trad. Appalachian) – arr. J. Sorrell (1.31)
14. Star in the East | The Shepherd's Star – Shape-Note Hymn from The Southern Harmony, 1835 (3.40)
V. WANDERERS UNDER THE SKY
15. Joseph & Mary (trad. British carol) / I Wonder as I Wander (trad. Appalachian – J. J. Niles) – arr. J. Sorrell (5.07)
16. The Gravel Walk / Over the Isles to America (trad. Scottish reel) (2.34)
VI. CHRISTMAS BARN DANCE
17. Hop High Ladies / June Apple Reel (trad. Appalachian) (2.29)
18. Cold Frosty Morning / Old Christmas / Breakin' Up Christmas (trad. Old-Time) – arr. R. Schiffer, J. Sorrell,
T. Bergmann (4.18)
19. Bonus Track: The Parting Glass (trad. Scottish/Irish) (2.13)
Recorded December 5 – 9, 2017 and July 28, 2018, First Baptist Church, Cleveland Heights, Ohio
Recording Producers: Jeannette Sorrell and Erica Brenner
Recording and Mastering Engineer: Daniel Shores
Editors: Erica Brenner and Daniel Shores