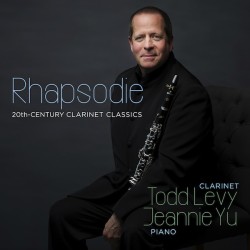 Title:
Rhapsodie: 20th Century Clarinet Classics
Artists:
Todd Levy, clarinet
Jeannie Yu, piano
Elena Abend, piano and
Rene Izquierdo, guitar
Summary:
Grammy Award-winning clarinetist Todd Levy, who holds the principal chairs with the Milwaukee Symphony Orchestra and Santa Fe Opera, presents Rhapsodie, an astonishing array of classic 20th-century works for his instrument. The rich pallette of colors and immense versatility of the clarinet is on full display in impressionistic Debussy and Ravel, Cubanisto-style Bernstein, pastoral Finzi, the folk idioms of Bartok, klezmer inspiration by Béla Kovács, blues-inflected Libby Larsen and genre-bending Paquito D'Rivera. Todd's technical wizardry is flawless throughout and is matched by his collaborators pianists Jeannie Wu and Elena Abend, and guitarist Rene Izquierdo.
Tracklist:
Gerald Finzi (1901 – 1956)
Five Bagatelles
1. Prelude (3:53)
2. Romance (4:27)
3. Carol (1:52)
4. Forlana (3:06)
5. Fughetta (2:20)
Leonard Bernstein (1918 – 1990)
Sonata for Clarinet and Piano
6. Grazioso (3:34)
7. Andantino e Vivace (6:51)
Béla Bartók (1881 – 1945)
Romanian Folk Dances
(arr. Zoltán Székely/adapted by Kálmán Berkes)
8. Joc cu bâtă (Stick Dance) (1:21)
9. Brâul (Sash Dance) (0:39)
10. Pe loc (In One Spot) (1:25)
11. Buciumeana (Dance from Bucsum) (1:32)
12. Poarga Românească (Romanian Polka) (0:36)
13. Mărunţel (Fast Dance) (1:02)
Claude Debussy (1862 – 1918)
14. Première rhapsodie (8:27)
Maurice Ravel (1875 – 1937)
15. Pièce en forme de habanera (3:14)
Libby Larsen (b. 1950)
Blue Third Pieces for Clarinet and Guitar
16. Deep Blue (4:04)
17. Salt Peanuts (3:29)
Béla Kovács (b. 1937)
18. Sholem-alekhem, rov Feidman! (4:58)
19. Hommage à Manuel De Falla (3:29)
Paquito D'Rivera (b. 1948)
20. Vals Venezolano (3:09)
21. Tributo a Lecuona (3:51)
22. Contradanza (2:19)
Total time: 69:48
Recorded May 5, 2009 (Bernstein), November 14, 2011 and December 5, 2011 (Finzi), May 9, 2016 (Bartók, D'Rivera, Kovács, Larsen, Ravel), at Tanner/Monagle Studio, Milwaukee, WI; June 1, 2006 (Debussy) at The Exchange Recording Complex, Milwaukee, WI
Producer: Rick Walters / Engineer: Ric Probst