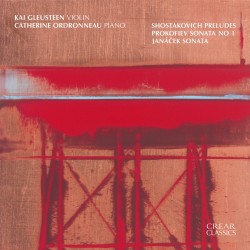 Title:
Shostakovich Preludes, Prokofiev Sonata No. 1, Janáček Sonata
Artists:
Kai Gleusteen, violin
Catherine Ordronneau, piano
Price:
£7.49 40% off - Limited time only!
Summary:
This release formed part of the launch of the innovative Crear Classics series on Avie, named for the spectacular studio space located on the western coast of Scotland. Kai Gleusteen is leader of the orchestra of Barcelona's Liceu Opera and together with his regular duo partner pianist Catherine Ordronneau delivers dramatic and powerful performances of the Janáček and Prokofiev Sonatas, and 19 of the Preludes by Shostakovich originally for solo piano, transcribed by D M Tsïganov.
At Crear, sweeping views of the bay overlooking the paps of Jura and Islay fuel the creative fires, inspiring musicians to exceptional artistic heights.
Crear Classics is the brainchild of conductor Harry Bicket, part-time resident of Argyll. In creating Crear Classics Bicket offers unique opportunities for musicians to be heard world-wide through their recording. He has specially selected the artists for Crear Classics, exceptional talent whom he has encountered throughout his extensive international itinerary.
Tracklist:
Leoš JANÁČEK (1854 – 1928)
1. – 4. Violin Sonata (16:03)
Dmitri SHOSTAKOVICH (1906 – 1975)
5. – 23. 19 Preludes, from Op.34, transcribed for violin by Dmitri Tsiganov (23:19)
Sergei PROKOFIEV (1891 – 1953)
24. – 27. Violin Sonata No.1 in F minor, Op.80 (27:05)
Total time: 67:00
Recorded 2 – 4 September 2002, at CREAR, Argyll, Scotland
Produced and Engineered by John Hadden
Reviews:
MusicWeb - Read here...