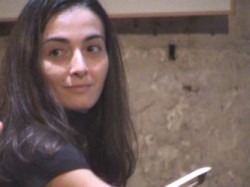 Biography:
Having performed her first recital at the age of twelve, it wasn't until the age of twenty, after two years of law school that Catherine decided to devote herself entirely to music. Taught by Colette Fernier, Monique Deschaussées, Sergio Perticaroli, and encouraged by François-René Duchâble, she received the highest distinction at both the Conservatory in Rouen and later at the Ecole Normale Alfred Cortot in Paris. Catherine was also awarded the Yvonne Lefébure Foundation Prize leading to television and radio broadcasts and concert engagements.
Catherine chose to avoid the international competition circuit in favour of taking the time to study repertoire in its historical context. Being a great lover of nature, a fan of Marcel Proust and having spent many years in Normandy, she explores in depth the composers who were inspired by this region, such as Roussel, Debussy, and Saint-Saëns. She deepens her understanding of Beethoven, Schumann and Brahms with numerous trips to Germany and her knowledge of the language and by reading Goethe and Heine. Her interpretation of Chopin is nourished by the time spent in Poland and a close examination of his letters.
Catherine's approach to music is very much appreciated not only by solo piano audiences throughout Europe and North America but also by various renowned chamber musicians. She is regularly invited to perform in chamber music festivals throughout these countries and devotes a large part of her time to her duo with Kai Gleusteen and the Trio Liceu.