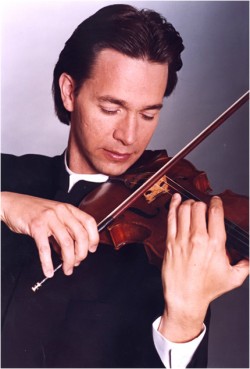 Biography:
Canadian born violinist, Kai Gleusteen, started learning the violin at the age of 5 in his native city, Calgary. Early on, Kai met with success in local, provincial, and national music competitions, in addition to receiving top academic awards. He spent the summers at Meadowmount in New York State, at the Aspen Festival, at the Banff School of Fine Arts, and at the Academy of the West in Santa Barbara, California, working with Ivan Galamian, Dorothy Delay, Stuart Canin, and Nathan Milstein.. Winters were filled with skiing, badminton, music, and school.
With the desire of broadening his horizons, Kai chose to balance his post-secondary education between academics and music. At the University of Michigan, he studied anthropology, geophysics, and philosophy. To his great fortune, he found there the person who would become his greatest inspiration on both a personal and musical level; his violin teacher, Camilla Wicks.
After receiving a Master's Degree from Rice University, Kai moved to Europe to live in the heart of Western Culture. Paris and Prague were his bases for nine years, allowing him to develop and perform both as a soloist and leader of numerous orchestras. In the year 2000, Kai won the concertmaster position of the Orchestra 'del Gran Teatre del Liceu' and subsequently moved to Barcelona. In 2003, he formed his own chamber orchestra, the Kaimerata, and was appointed professor at the Escuela Superior de Musica de Catalunya. He continues to perform extensively as a soloist and a recitalist throughout Europe and North America.
Kai plays on a violin made by J.B. Guadagnini in 1781.