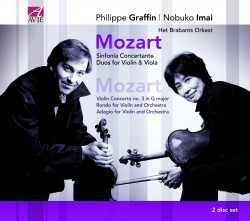 Title:
Sinfonia Concertante, Duos for Violin & Viola, Violin Concerto No. 3
Artists:
Philippe Graffin, violin
Nobuko Imai, viola
Brabant Philharmonic Orchestra of Eindhoven, The Netherlands
Summary:
Philippe Graffin's enterprise and ingenuity have been borne out in the world-premiere recording of the Violin Concerto by Samuel Coleridge-Taylor (AV 0044), a disc of commissions and premieres by Lithuanian composer Vytautus Barkauskus (AV 2073), and the first recording of the original manuscript versions of Elgar's Violin Concerto and Chausson's Poème (AV 2091). He proves himself an equally eminent Mozartian on his latest Avie release, a two-disc set marking his second collaboration on Avie with the leading Japanese violist Nobuko Imai. In the sprightly Sinfonia Concertante, two delightful Duos, the Third Concerto plus an Adagio and a Rondo, the multi-tasking Graffin takes on the roles of soloist, chamber musician, director, and composer of his own cadenzas. He is backed by the versatile Brabant Philharmonic Orchestra of Eindhoven, The Netherlands. The stylish packaging features another typical twist by the resourceful Graffin, who commissioned leading journalist and novelist Jessica Duchen to write a short story for the booklet, which also includes Avie's trademark comprehensive documentation in three languages.
Tracklist:
Wolfgang Amadeus MOZART (1756 – 1791)
CD 1
Violin Concerto No. 3 in G major, K216
1. Allegro (8:54)
2. Adagio (6:39)
3. Rondeau – Allegro (5:40)
4. Adagio for violin and orchestra in E major, K261 (6:03)
5. Rondo for violin and orchestra in C major, K373 (5:10)
Sinfonia Concertante for violin and viola in E-flat major, K364
6. Allegro maestoso (12:52)
7. Andante (10:59)
8. Presto (5:58)
Total time CD 1: (62:47)
CD 2
Duo for violin and viola No. 1 in G major, K423
1. Allegro (10:04)
2. Adagio (3:53)
3. Rondeau – Allegro (4:57)
Duo for violin and viola No. 2 in B-flat major, K424
4. Adagio – Allegro (10:47)
5. Andante cantabile (3:03)
6. Thema (con variazioni) – Andante grazioso (7:50)
Total time CD 2: (40:45)
Recorded 22 – 23 June 2006, Deventer, The Netherlands (Duos); 26, 27, 29 June 2006, Eindhoven, The Netherlands (Orchestral works)
Recording: Mediatrack Amsterdam
Producers, Editing: Tom Peeters, Arnout Probst
Recording engineers: Tom Peeters, Hans Strikkers