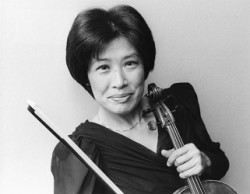 Biography:
Nobuko Imai studied at the famous Toho School of Music in Tokyo and then at Yale University and the Juilliard School.
She is the only violist to have won the highest prizes at both the Munich and Geneva International Viola Competitions, and she was formerly a member of the esteemed Vermeer Quartet. Miss Imai is now established as a distinguished international soloist, and as well as appearing regularly in the Netherlands, where she now lives, her career takes her to major cities in Europe, the USA and Japan.
She has worked with major orchestras all over the world, including the Berlin Philharmonic Orchestra, Royal Concertgebouw Orchestra, Vienna Symphony Orchestra, Royal Stockholm Philharmonic Orchestra, London Symphony Orchestra, Royal Philharmonic Orchestra, the BBC orchestras, the Boston Symphony Orchestra, Chicago Symphony Orchestra and Tokyo's NHK Symphony Orchestra. Nobuko Imai is a regular guest at the Marlboro Festival and has also appeared at the Lockenhaus, Casals, Aldeburgh and South Bank Summer Music Festivals, the International Viola Congress in Houston and the BBC Proms.
Nobuko Imai has been awarded many prizes, including the Avon Arts Award (1993), the Education Minister's Art Prize of Music by the Japanese Agency of Cultural Affairs (1994) and the Mobil Prize of Japan (1995). In 1996 she received Japan's most prestigious music prize, the Suntory Hall Prize, awarded to her by a unanimous jury. She is Professor at the College of Music in Detmold, Germany.