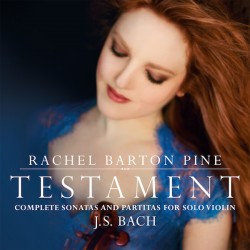 Title:
Testament: Complete Sonatas and Partitas for Solo Violin
Artists:
Rachel Barton Pine, violin
Summary:
Best-selling violinist Rachel Barton Pine's relationship with the music of Bach runs deep. She first heard and fell in love with Bach's music in her hometown St. Pauls Church in Chicago, which had a stained glass window of the composer in the sanctuary. That church is where Rachel first played Bach's music, at the age of four, and where she returned to record Bach's Six Sonatas and Partitas in its beautfiul yet clear acoustic. Rachel says, "I'm so pleased to have recorded the Six Sonatas and Partitas in my favorite sound space for these works, the place that I consider to truly be my emotional home for playing them."
This recording is released to coincide with the anniversary of J. S. Bach's birth, and is a testament to Rachel's lifelong relationship with one of the cornerstones of the violin repertoire.
Tracklist:
Johann Sebastian Bach 1685–1750
Compact Disc 1
Sonata No.1 in G minor BWV 1001
1  Adagio (3.30)
2  Fuga (4.51)
3  Siciliana (2.33)
4  Presto (3.23)
Partita No.1 in B minor BWV 1002
5  Allemanda (7.04)
6  Corrente (6.38)
7  Sarabande (3.18)
8  Tempo di Borea (8.29)
Sonata No.2 in A minor BWV 1003
9  Grave (3.27)
10  Fuga (6.44)
11  Andante (5.2
12  Allegro (5.16)
Total time: 60.51
Compact Disc 2
Partita No.2 in D minor BWV 1004
1  Allemanda (4.01)
2  Corrente (2.43)
3  Sarabanda (3.48)
4  Giga (3.55)
5  Ciaccona (11.36)
Sonata No.3 in C BWV 1005
6 Adagio (4.00)
7 Fuga (9.05)
8 Largo (2.54)
9 Allegro assai (4.51)
Partita No.3 in E BWV 1006
10 Preludio (3.33)
11 Loure (3.51)
12 Gavotte en rondeau (2.42)
13 Menuet I & II (4.03)
14 Boureé (1.37)
15 Gigue (1.53)
Total time: 64.47
Recorded: 16–18 April, 28–30 May, 29 & 31 August 2015, St. Pauls United Church of Christ, Chicago
Producer: Steven Epstein

Recording engineer: Bill Maylone