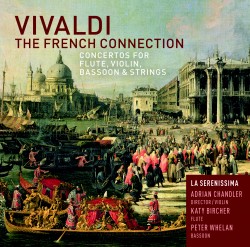 Title:
Vivaldi: The French Connection
Artists:
Katy Bircher, flute
Peter Whelan, bassoon
Adrian Chandler, violin / director
La Serenissima
Summary:
Following the three releases in the acclaimed series 'The Rise of the North Italian Violin Concerto', Adrian Chandler and La Serenissima explore the Red Priest's fascination with the goût français.
The voracity with which the French devoured Italian music during the late baroque period is well documented. Vivaldi was involved in both the dissemination of the French style in Italy and that of the Italian style in France. His works achieved fashionable status there in the late 1720s thanks to his concertos Le Quattro Stagioni which became a feature at the popular Concert Spirituel (between 1728 and 1763).
Tracklist:
Antonio VIVALDI (1678 – 1741)
'Paris' Concerto 5 for strings & continuo in C, RV 114 (6:09)
1. Allegro (2:41)
2. Adagio (0:25)
3. Ciacona (3:03)
Concerto for bassoon, strings and continuo in F, RV 488 (8:24)
4. Allegro non molto (3:12)
5. Largo (2:57)
6. Allegro (2:15)
Concerto for violin, strings, & continuo in C, RV 185, Op. 4, No. 7 (8:00)
7. Largo (1:56)
8. Allegro (2:13)
9. Largo (1:33)
10. Allegro (2:18)
Concerto for flute, strings, bassoon & continuo in G, RV 438 (10:39)
11. Allegro (3:52)
12. Andante (3:26)
13. Allegro (3:21)
'Paris' Concerto 1 for strings & continuo in g minor, RV 157 (6:10)
14. Allegro (2:14)
15. Largo (1:38)
16. Allegro (2:18)
Concerto fragment for bassoon, strings & continuo in C, RV 468 (4:12)
17. Allegro (2:35)
18. Andante (1:37)
Concerto fragment for flute, strings & continuo in e, RV 432
19. Allegro (3:05)
Concerto for flute, violin, bassoon & continuo in F, RV 100 (7:40)
20. Allegro (2:41)
21. Largo (2:31)
22. Allegro (2:28)
'Paris' Concerto 3 for strings & continuo in c minor, RV 119 (5:43)
23. Allegro (2:47)
24. Largo (1:33)
25. Allegro (1:23)
Concerto for violin, strings & continuo in D, RV 211 (15:34)
26. Allegro non molto (6:03)
27. Larghetto (3:52)
28. Allegro (5:39)
Total timing: 76:54
Recording produced, engineered and edited by Simon Fox-Gál
Engineering assistance: Susana Valente