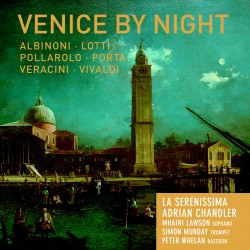 Artists:
Mhairi Lawson, soprano
Simon Munday, trumpet
Peter Whelan, bassoon
La Serenissima
Adrian Chandler, violin / director
Summary:
Adrian Chandler's and La Serenissima's 10th release for Avie – coinciding with the label's 10th Anniversary – has all the hallmarks that have made the Vivaldi specialists one of the best-selling and acclaimed period-instrument bands performing today. Adrian's erudition and his ensemble's crowd-pleasing performances combine to produce recordings that are at once popular and enlightening. Venice by Night evokes an era of the Venetian Republic when the arts flourished, attracting audiences from all over Europe including scores of royalty. Feeding the tourist trade, the resident composers revelled in creating everything from grand operas and serenatas, virtuoso concertos and sinfonias, motets and gondoliers' ballads. As with the chart-topping Vivaldi: The French Connection 2 (AV 2218) which featured the world-premiere recording of the flute concerto Il Gran Mogol, Adrian has once again unearthed numerous works from this period that are recorded for the first time.
Tracklist:
Arriving by Gondola
ANON ca. 1730
1. Si la gondola avere (3:40)
A Private Concert
Carlo Francesco POLLAROLO (ca.1753 – 1723)
* Sinfonia to La Vendetta d'Amore for trumpet, strings & continuo (3:10)
2. Allegro assai (1:32)
3. Largo (0:31)
4. Spiritoso (1:07)
Tomaso ALBINONI (1670 – 1751)
Sinfonia for strings & continuo in g, Si 7 (6:01)
5. Allegro (2:17)
6. Larghetto è sempre piano (1:27)
7. Allegro (2:17)
Antonio VIVALDI (1678 – 1741)
Concerto for bassoon, strings & continuo in C, RV 477 (11:20)
8. Allegro (3:50)
9. Largo (3:56)
10. Allegro (3:34)
Journey by Gondola
ANON ca.1730
11. * Cara Nina el bon to sesto for soprano & guitar (2:00)
Music for Compline
Francesco Maria VERACINI (1690 – 1768)
[12] * Fuga, o capriccio con quattro soggetti in d for strings & continuo (3:05)
Antonio LOTTI (ca. 1667 – 1740)
* Motet Alma ride exulta mortalis for soprano, strings & continuo (12:28)
13. Aria – Allegro: Alma ride exulta mortalis (4:38)
14. Recitativo: Annuntiemur igitur (0:50)
15. Ritornello – Adagio (0:39)
16. Aria – Adagio: Venite ad nos (4:29)
17. Alleluja (1:52)
Serenata
ALBINONI
Sinfonia to Il Nome Glorioso in Terra Santificato in Cielo for trumpet, strings & continuo (4:20)
18. Allegro (2:09)
19. Adagio (0:51)
20. Allegro (1:20)
Journey by Gondola
ANON ca.1730
21. No stè a condanarme for soprano & continuo (1:44)
A Concert from the Ospedale della Pietà
VIVALDI
Concerto for violin, strings & continuo in e, RV 278 (14:54)
22. Allegro molto – Largo – Allegro molto – Andante (6:13)
23. Largo (3:58)
24. Allegro (4:43)
At the Opera House
Giovanni PORTA (ca.1690 – 1755)
* Sinfonia for trumpet, strings & continuo in D (4:13)
25. Allegro assai (2:43)
26. Andante (0:37)
27. Allegro (0:53)
VIVALDI
Arias for Marianino Nicolini
Il fidarsi alla spene for soprano, strings & continuo from L'Olimpiade, RV 725 (7:02)
28. Recitativo: Pria dell'esito ancor (0:32)
29. Aria – Largo: Il fidarsi della spene (6:30)
Act II Scene 5 for soprano, trumpet, strings & continuo from Motezuma, RV 723 (5:22)
30. Recitativo: Mi deride, mi sprezza (0:30)
31. Aria – Allegro: D'ira e furor armato (4:52)
Total time: 79:47
* world-premiere recordings
Producer: Simon Fox-Gál
Recorded 13 – 17 February 2012, at the Hospital of St. Cross, Winchester