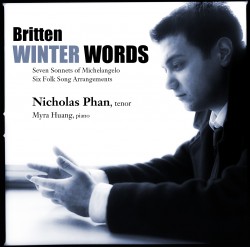 Artists:
Nicholas Phan, tenor
Myra Huang, piano
Summary:
Winter Words is the solo debut release by American tenor Nicholas Phan. The recording was made in the wake of a recital tour in 2010-11 which culminated in his Carnegie debut at Weill Hall. A graduate of the Manhattan School of Music and an alumnus of the Houston Grand Opera studio Nick has performed with the opera companies of Los Angeles and Seattle, symphony orchestras of Atlanta, St. Louis and San Francisco, and the Marlboro, Ravinia and Edinburgh Festivals, among others. He sang in Stravinsky's Pulcinella with the Chicago Symphony Orchestra under Pierre Boulez which was nominated for a Grammy Award.
Nick presents a deeply personal perspective of Britten's music, encompassing his own performing experiences to audience reaction. He says: "I've been a fan of Britten since playing his Young Person's Guide to the Orchestra with my youth orchestra in Detroit as a teenage violinist. But my great devotion to his music increased to an obsession when an excellent pianist and good friend asked if I'd perform with her at a small university in Missouri. She suggested Winter Words, saying, "I think these would sound really great in your voice, and I've wanted to play them for ages, so indulge me." I researched and played through Britten's settings of Hardy's poems and before long, I was hooked."
Approaching the performance in a small Midwestern town with some trepidation ("how would they react?"), Nick describes the audience's overwhelmingly positive response: "my favourite piece on the program … the most lasting impression." Such is the enduring quality of Britten's sophisticated yet direct song writing, of which Nick is a leading torch-bearer.
Tracklist:
Benjamin BRITTEN (1913 – 76)
Winter Words, Op. 52
1. At day-close in November (1:45)
2. Midnight on the Great Western (or "The Journeying Boy") (4:50)
3. Wagtail and Baby (A Satire) (2:13)
4. The Little Old Table (1:28)
5. The Choirmaster's Burial (or "The Tenor Man's Story") (4:17)
6. Proud Songsters (Thrushes, Finches, and Nightingales) (1:08)
7. At the Railway Station, Upway (or "The Convict and Boy with the Violin") (2:53)
8. Before Life and After (3:12)
9. Come you not from Newcastle? (1:18)
10. Little Sir William (2:52)
11. The Salley Gardens (2:50)
Seven Sonnets of Michelangelo, Op. 22
12. Sonnetto XVI Sì come nella penna e nell¹inchiostro (2:14)
13. Sonnetto XXXI A che più debb¹io mai l¹intensa voglia (1:33)
14. Sonnetto XXX Veggio co¹bei vostri occhi un dolci lume (3:56)
15. Sonnetto LV Tu sa¹ ch¹io so, signor mie, che tu sai (2:00)
16. Sonnetto XXXVII Rendete a gli occhi miei (1:52)
17. Sonnetto XXXII S¹un casto amor, s¹una pietà superna (1:23)
18. Sonnetto XXIV Spirto ben nato, in cui si specchia e vede (4:45)
19. The Ash Grove (3:21)
20. Last Rose of Summer (4:28)
21. The Plough boy (1:26)
Total time: 55:51
Recorded 13 April 2009 (tracks 1-8) and 24 June 2010 (tracks 9-21), Bicoastal Music, Ossining, NY, USA
Producer, engineer and editing: Marlan Barry
Reviews:
The New York Times - Read here...