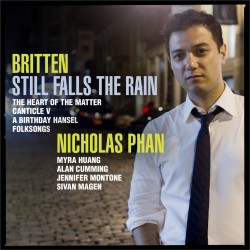 Artists:
Nicholas Phan, tenor
with
Myra Huang, piano
Jennifer Montone, horn
Sivan Magen, harp
Alan Cumming, narrator
Summary:
Winter Words, last year's solo debut album by American tenor Nicholas Phan, was one of the most lauded releases of the year. Phan (pronounced pahn) follows up with Still Falls the Rain, another intelligently devised album of Britten's songs, this time focusing on works inspired by the composer's key collaborators including horn player Dennis Brain, harpist Osian Ellis and poet Edith Sitwell. As with Winter Words (AV 2238), Phan successfully intersperses great song cycles with popular folk song arrangements. The rarely recorded The Heart of the Matter includes the narration of Sitwell's poems by Scottish actor Alan Cumming.
Tracklist:
Benjamin BRITTEN (1913 – 1976)
The Heart of the Matter
1. Prologue – Fanfare: Where are the seeds of the Universal Fire (2:57)
2. Reading: The earth of my heart was broken and gaped low… (0:42)
3. Fanfare (0:28)
4. Reading: In the hour when the sapphire of the bone… (0:45)
5. Song: We are the darkness in the heat of the day (1:36)
6. Reading: In such a heat of the earth (2:35)
7. Canticle III – Still falls the Rain, Op. 55 (11:10)
8. Reading: I see Christs wounds weep in the Rose on the wall (1:57)
9. Epilogue – Fanfare: So, out of the dark… (2:55)
10. A Birthday Hansel, Op. 92 (16:20)
11. Canticle V – The Death of Saint Narcissus, Op. 89 (7:55)
Folksong Arrangements for Voice and Harp
12. Lord! I married me a wife (1:18)
13. Shes like the swallow (2:29)
14. Lemady (1:32)
15. Bonny at morn (3:07)
16. Bugeilio r Gwenith Gwyn (2:54)
17. Dafydd y Garreg Wen (3:24)
18. The False Knight upon the Road (3:20)
19. Bird Scarer s Song (0:51)
Folksong Arrangements for Voice and Piano
20. Greensleeves (2:18)
21. The Holly and the Ivy (2:20)
Total time: 64:38
Myra Huang, Sivan Magen, Jennifer Montone and Nicholas Phan recorded 6 & 14 January 2012 in the recital hall of the Performing Arts Center, Purchase College, Purchase, NY, USA
Alan Cumming recorded 29 June 2012 at CaVa Sound Studios in Glasgow, Scotland
Producer, engineer and editing: Marlan Barry
CaVa Sound Studios engineer: Geoff Allan
Dubway Studios ISDN engineer: Brandon Hollely