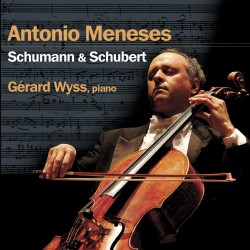 Title:
Works for Cello and Piano
Artists:
Antonio Meneses, cello
Gérard Wys, piano
Summary:
Brazilian cellist Antonio Meneses, Beaux Arts Trio member and a frequent collaborator of the world's greatest conductors and orchestras, made an indelible impression with his recording of J S Bach's Six Cello Suites (AV 0052). A consistently strong seller, it garnered a Benchmark accolade from BBC Music Magazine. In this release of works by Schubert and Schumann, Antonio revels in romantic ardour and the composer's lyrical qualities. Together with his accompanist, Gérard Wyss, Antonio's consummate artistry results in performances that are so elegant it's hard to believe that all but one of the works, Stücke im Volkston, were originally written for instruments other than the cello.
Tracklist:
Robert SCHUMANN (1810 – 1856)
Adagio & Allegro in A flat, Op. 70 (9:45)
1. Langsam, mit innigem Ausdruck (4:30)
2. Rasch und feurig (5:15)
Fantasiestücke, Op. 73 (11:14)
3. I Zart und mit Ausdruck (3:20)
4. II Lebhaft, leicht (3:31)
5. III Rasch und mit Feuer (4:23)
Fünf Stücke im Volkston, Op. 102 (16:02)
6. I Mit Humor (2:56)
7. II Langsam (3:41)
8. III Nicht schnell, mit viel Ton zu spielen (4:20)
9. IV Nicht zu rasch (2:04)
10.V Stark und markiert (3:01)
Märchenbilder, Op. 113 (15:43)
transcribed by Alfredo Piatti, edited by Christian Bellisario
11. I Nicht schnell (3:37)
12. II Lebhaft (4:16)
13. III Rasch (2:45)
14. IV Langsam, mit melancholischem Ausdruck (5:05)
Franz SCHUBERT (1797 – 1828)
Arpeggione Sonata in A minor, D821 (25:22)
15. I Allegro moderato (11:50)
16. II Adagio (4:31)
17. III Allegretto (9:01)
Total time: 78:51
Recorded at Potton Hall, Suffolk, England, 26-28 May 2006
Produced and engineered by Simon Fox-Gál
Editing: Sebastian Schubert