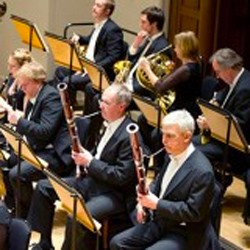 Biography:
The Academy of St Martin in the Fields is renowned for its polished and refined sound, rooted in outstanding musicianship. Formed by Sir Neville Marriner in 1958 from a group of leading London musicians, the Academy gave its first performance in its namesake church in November 1959. Originally directed by Sir Neville from the leader's chair, the collegiate spirit and flexibility of the original small, conductor-less ensemble remains an Academy hallmark which continues today, with virtuoso violinist Joshua Bell as its Music Director. Together they explore symphonic repertoire to perform 'chamber music on a grand scale'. Joshua has recently renewed his contract to continue as Music Director for a further three years through to summer 2017.
Highlights of this season include London concerts and international tours with pianist Jeremy Denk, clarinettist Martin Fröst and violinist Julia Fischer. Principal Guest Conductor Murray Perahia tours with the orchestra to Europe in August and September and on an exciting tour of Asia in November. Joshua himself will undertake four tours with the Academy this season, travelling as far afield as South America and the Middle East, as well as two tours of Europe.
The orchestra's programmes for this season contain many gems from the chamber music and classical repertoire; look out for Schubert's String Quintet, Dvorak's Serenade for Strings, Mozart's Eine Kleine Nachtmusik and Schoenberg's Verklärte Nacht among others. The Academy's winter concert at St-Martin-in-the-Fields, Walking in the Air, will pay tribute to the work of composer Howard Blake, including a newly commissioned arrangement of The Snowman, conducted by the Academy's Life President Sir Neville Marriner.
In addition to our concerts, our players continue to reach out to young musicians and adult learners through Outward Sound, the Academy's education programme. This year's projects include workshops for school children, professional development partnerships and lifelong learning schemes all creating opportunities for everyone to connect and create music with the orchestra.
With over 500 recordings to date, the Academy is one of the most recorded chamber orchestras in the world. The orchestra received their first gold disc for their recording of Vivaldi's Four Seasons in 1969 with the 2007 recording with Joshua Bell reaching No.1 on the Billboard Classical Chart. Their soundtrack for the film Amadeus won 13 gold discs alone, while in 1996 The English Patient picked up an Academy Award© for Best Music, with a soundtrack performed by the Academy. In March 2013 the orchestra and Joshua Bell released their first recording on Sony Classical under his leadership, Beethoven's Symphonies 4 and 7. Their recoding of Bach violin concertos will be released September 2014.