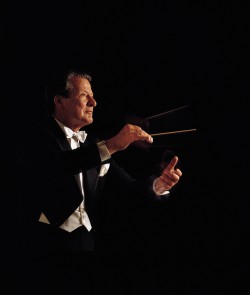 Biography:
Like his mentor and hero, Pierre Monteux, Sir Neville Marriner began life as a violinist, playing first in a string quartet and trio, then in the London Symphony Orchestra, during which period he founded the Academy of St Martin in the Fields.
After his studies in America with Maestro Monteux, he began his conducting career in 1969, when he founded the Los Angeles Chamber Orchestra, at the same time developing and extending the size and repertoire of the Academy, and guest conducting orchestras all over the world.
In 1979 he became Music Director and Principal Conductor of both the Minneapolis Orchestra and the Südwest Deutshe Rundfuk, Stuttgart, positions he held until the late into the 1980's.
Subsequently he has continued to work with orchestras round the globe – Vienna, Berlin, Paris, Milan, Athens, New York, Boston, San Francisco and Tokyo. His recording career is well documented and his touring schedule extensive.
He made his opera debut conducting Le nozze di Figaro, at the Aix-en-Provence Festival, his U.S. debut in Los Angeles with La Cenerentola, then a Salzburg Mozarteum production of Il rè pastore. He opened the new opera house in Athens in 2005 with a production of The Magic Flute.
Twice honored for his services to music in his own country, he has recently been awarded honors in France, Germany and Sweden, as well as the 2014 Gramophone special award for Outstanding Achievement.