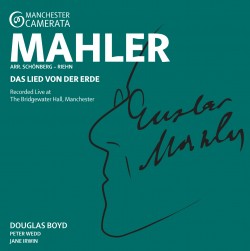 Artists:
Jane Irwin, mezzo-soprano
Peter Wedd, tenor
Douglas Boyd
Manchester Camerata
Summary:
The 2010 Mahler in Manchester festival was "A sensory experience like no other," according to The Sunday Times, not least for the Manchester Cameratas revelatory performance of Das Lied von der Erde in the scaled-down chamber version by Schoenberg. The poignancy of Mahler's "Song of the Earth" is highlighted by the reduced forces: just 16 performers, including the distinctive chimes of harmonium, celeste and piano. The chamber arrangement came about through Schoenberg's Vienna-based Association for Private Musical Performances, founded in 1918. Dedicated to exploring new music but short of funds, they made a number of chamber versions of larger works, of which Das Lied was one. Conducted by Douglas Boyd, Manchester Cameratas performance of this transcription loses nothing of the astonishing sonic allure of the original – an ideal memento of an enlightening festival celebrating the music of Mahler.
The booklet includes complete song texts in German with English translations.
Tracklist:
Gustav MAHLER (1860 – 1911)
Das Lied von der Erde
I. Das Trinklied vom Jammer der Erde (7:54)
II. Der Einsame im Herbst (9:51)
III. Von der Jugend (3:05)
IV. Von der Schönheit (6:52)
V. Der Trunkene im Frühling (4:24)
VI. Der Abschied (28:20)
Total time: 60:32
Recorded live in performance at Bridgewater Hall, Manchester, 30 January 2010
Producer: Andrew Keener
Engineer: David Hinitt