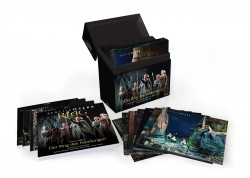 Artists:
Seattle Opera
Seattle Symphony Orchestra
Seattle Opera Chorus
Asher Fisch, conductor
Summary:
Nearly 40 years ago, a small, regional company in the Pacific Northwest of the United States decided to scale arguably the greatest height of the operatic repertoire, Wagner's Ring. That amazing feat launched a legendary tradition that has become universally known as the Seattle Ring, a destination for the cycle's legions of devotees from around the world.
Now the fabled history of the Seattle Ring has been captured for commercial release for the very first time. Recorded live during the 2013 season, the production recreates the immediacy of the theatre-going experience and the realism of the superb Seattle cast, which includes Alwyn Mellor as Brunhilde, Stefan Vinke as Siegfried, Greer Grimsley as Wotan, Stephanie Blythe as Fricka, Margaret Jane Wray as Sieglinde, and Stuart Skelton as Siegmund. From the pit, Israeli-born Asher Fisch conducts the Seattle Symphony Orchestra
This production of the Ring was created in 2001. 2013 saw its fourth outing, with every prior performance building towards the pinnacle heard here. Directed by Stephen Wadsworth, it has become well-known as the "Green Ring," emphasizing the importance of nature and the evil that is committed in destroying it. This environmental statement also mirrors the real world as described by Wagner in his own libretto.
For decades, the Seattle Ring has been guided by the steady and expert hands of Seattle Opera's General Director Speight Jenkins, who first dreamed of creating a Ring cycle in the 1940s when he was a young boy. With the 2013 Seattle Ring, Speight celebrated three decades with the company. He will retire at the end of the 2014 season, a momentous and newsworthy occasion at which Speight's legacy will be feted by the international opera community.
The Seattle Ring is luxuriously packaged in a sturdy box, containing 14 CDs in colour cardboard wallets and five, 100-page perfect-bound books – one for each of the Ring's four librettos in original German with English translations, plus a commemorative four-colour booklet containing essays by Speight Jenkins and numerous photos documenting the 2013 Seattle Ring.