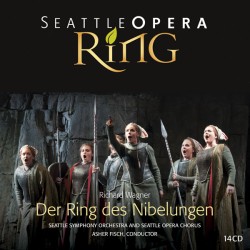 Biography:
Founded in 1963, Seattle Opera is one of the leading opera companies in the United States. The company is recognized internationally for the quality of its productions and as the pre-eminent presenter of Wagner's opera in the United States.
While under the direction of its founding general director Glynn Ross, Seattle Opera's noteworthy accomplishments included presenting the 1970 world premiere of Carlisle Floyd's opera Of Mice and Men, the 1971 first fully staged production of The Who's rock opera Tommy, and the 1972 world premiere of Pasatieri's Black Widow. In 1975, Seattle Opera gave its first complete cycle of Wagner's Ring in one week, an event that had not happened in the United States since 1939 (and unique outside of New York). This Ring was produced each summer for nine consecutive seasons until 1984.
Under the leadership of General Director Speight Jenkins, who succeeded Ross in 1983, Seattle Opera created a host of landmark productions. Among them are the 1984 Ballad of Baby Doe, the 1988 Orphée et Eurydice, the 1989 Die Meistersinger von Nürnberg, the 1990 Dialogues des Carmélites and War and Peace, the 1993Pelléas et Mélisande with sets by renowned glass artist Dale Chihuly, the 1998 Tristan und Isolde, and two new productions of Der Ring des Nibelungen. In August of 2003, the company inaugurated its new state-of-the-art home, Marion Oliver McCaw Hall, with a new production of Wagner's Parsifal which ranked among the company's finest artistic achievements. Outstanding presentations of the last five seasons have included new productions built by Seattle Opera of Gluck's Orphée et Eurydice andIphigénie en Tauride (the latter a co-production with the Metropolitan Opera), Don Quichotte, and Lucia di Lammermoor as well as the world premiere of Amelia, by Daron Aric Hagen.
Seattle Opera's Young Artists Program, founded in 1998, has presented 23 operas in non-mainstage productions and fostered the careers of many singers who have gone on to notable success. As part of its commitment to fostering the music of Wagner, the company created the International Wagner Competition in 2006 and presented a second IWC in 2008.
Seattle Opera's artistic achievements have been widely enjoyed by the public—the company has attained, on an opera-by-opera basis, the highest per capita attendance of any major opera company in the U.S. Seattle Opera presented its first live simulcast in a sports arena in May 2012 (Madama Butterfly at KeyArena). In addition to serving high numbers of people through its mainstage offerings, Seattle Opera serves thousands more through its groundbreaking education programs, its building of sets for other companies, and its assumption of special projects, such as repairing the Monorail doors for the City of Seattle. For now and for the future, Seattle Opera remains committed to its mission of "producing musically extraordinary, theatrically compelling operas."