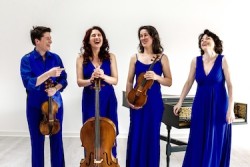 Biography:
The Brook Street Band is named after the London street where composer George Frideric Handel lived from 1723-1759. It was formed in 1996 by baroque cellist Tatty Theo and rapidly established itself amongst the UK's leading Handel specialists, winning grants, awards and broadcasting opportunities from various organisations including BBC Radio 3 and the Handel Institute. Eighteenth century chamber repertoire has always been the Band's driving passion, focussing particularly on Handel's music. However, in recent years the Band's activities have expanded to include regular collaborations with conductors, choirs and venues on larger-scaled works by Handel and his contemporaries.
The Brook Street Band has performed and taught at prestigious British and European Festivals and venues including Dartington International Summer School, Barcelona Early Music Festival, Kuhmo Chamber Music Festival, and in London at St. John's Smith Square and Wigmore Hall. It continues to develop and expand its performing schedule encompassing venues throughout the UK and Europe. In 2017, The Brook Street Band established love: Handel, its biennial festival in Norfolk dedicated to Handel's music. love: Handel fuses several of the Band's passions; working with young people in schools, and extending chamber music and concert links within this community.
The Brook Street Band has ongoing Handelian collaborations with several authors/librettists including Louis de Bernières and Alasdair Middleton, fusing newly-commissioned prose with Handel's music. It is also working with choreographer Will Tuckett on a Handelian-inspired piece, and the Band's wide-ranging educational work is supported through The Brook Street Band Trust (Registered Charity No.1122890).
The Brook Street Band regularly broadcasts for Radio 3 and Classic FM and its extensive discography for AVIE has been singled out to critical acclaim with accolades including Gramophone Magazine Editor's Choice.
"The musical language is so second nature to the Band that its playing has the unbuttoned relish of musicians relaxing in a mother tongue … an incisive verve prevails throughout the disc, buoyed up by a conversational attentiveness that never flags, and ensemble so pin-sharp it merits a safety warning." - BBC Music Magazine
"[The band members] approach everything with a spring in their step, relishing the harmonic crunches and keeping everything vital and vivacious. - The Guardian
"finely balanced, deliciously spiced, infectiously musical" - BBC Radio 3
"In chamber music from this period, you won't find more winning and winsome playing" - Classic FM
"very enjoyable and stylish" - The Times
Upcoming Concerts:
The Brook Street Band has no upcoming tour dates. Please check back soon.