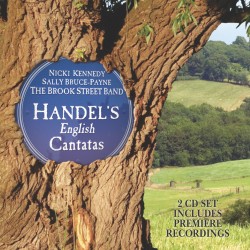 Title:
English Cantatas and Songs
Artists:
Nicki Kennedy, soprano
Sally Bruce-Payne, mezzo-soprano
The Brook Street Band
Summary:
In this day and age is there any more to be traced and discovered from Handel's "lost music"? The Brook Street Band, awarded a Gramophone Editor's Choice for their AVIE debut of Handel's "Oxford" Water Music (AV 0028), certainly think so. Their inquisitive fourth disc for AVIE presents music unheard since the composer's time, his English Cantatas and Songs. Some of the music is certainly borrowed from well known works such as the operatic masterpiece Giulio Cesare, but here the English songs are mostly original compositions which were probably intended for indoor performances in front of a very small audience. For these vocal pieces the Band are joined by soprano Nicki Kennedy and alto Sally Bruce-Payne, both known soloists in the field of Early Music, Choral and Opera.
Tracklist:
George Frideric HANDEL (1685 – 1759)
CD 1
Cantata – So Pleasing the Pain is (38:22)
1. So pleasing, the Pain is (8:26)
2. Foolish swain at length grow wiser (5:04)
3. Love thou Joy of ev'ry Creature (9:04)
4. Soon as the Day is breaking (6:00)
5. Cease, cease thy vain Contending (5:03)
6. Let our Discords all be ended (4:45)
Cantata – With Roving and with Ranging (30:22)
7. With Roving and with Ranging (4:33)
8. Strephon Cease no more pursue me (5:40)
9. My Chloe you may believe me (6:13)
10. Prudence bids me Shun your passion (4:27)
11. The Floods shall quit the Ocean (4:18)
12. Gentle Hymen lose no time (5:11)
Total time CD 1: 69:11
CD 2
Cantata – To Lonely Shades (23:53)
1. To lonely Shades fair Delia stray'd (1:05)
2. My Fair from hence is gone (8:03)
3. See, See my dearest Damon (3:20)
4. How delighted how contented (6:35)
5. To tender Love and Pleasure (4:50)
English Song
6. I like the am'rous Youth (2:33)
Harpsichord Solo
7. An Answer to Collin's Complaint (1:44)
English Songs
8. The Forsaken Nymph (anonymous text) (3:32)
9. Dear Adonis, beauty's Treasure (5:04)
10. Love's but the Frailty of the mind (5:02)
11. 'Twas when the seas were roaring (The Melancholy Nymph) (4:18)
12. Transporting Joy (3:11)
Total time CD 2: 49:46
Recorded 7-12 April 2008 at Raveningham Church, Raveningham, Norfolk, England
Produced, engineered and edited by Simon Fox-Gál