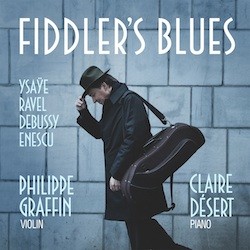 Artists:
Philippe Graffin, violin
Claire Désert, piano
Summary:
Philippe Graffin's virtuosity combined with his skills as a sleuth have led to the world-premiere recording of a "Posthumous" solo violin sonata by Eugène Ysaÿe, an astonishing discovery that extends the Belgian composer's canon of his essential six sonatas for the medium. Philippe unearthed the nearly-completed manuscript in the library of the Brussels Conservatoire, and polished off the final movement in the most Ysaÿe-esque manner possible. Philippe's penchant for intuitive programming is brought to bear on Fiddler's Blues, combining two Ysaÿe works – including another premiere, the Petite fantasie romantique – with a pair of folksy, Bohemian-flavoured works by George Enescu, another virtuoso violinist / composer who emigrated from his native Romania and like Ysaÿe settled in Paris. Enescu was a classmate of Maurice Ravel whose Berceuse sur le nom de Gabriel Faure is an affectionate nod to their teacher at the Paris Conservatoire, whilst his azure-tinged Violin Sonata influences the album's title. Ravel's slightly older contemporary Claude Debussy befriended Ysaÿe. Whereas Ysaÿe soared writing works for solo violin, Debussy wrote none. Suggesting how such a work may have sounded, Philippe contributes his own arrangement for solo violin, made together with David Matthews, of Debussy's enduring piano piece Claire de lune.
Tracklist:
Eugène Ysaÿe (1858 – 1931)
Sonate posthume pour violon seul, Op. 27bis (9.18) *
1. I. Allegro molto moderato ma con brio (3.39)
2. II. Canzona: Lento e mesto (3.30)
3. III. Finale: Giocoso (2.08)
Maurice Ravel (1875 – 1937)
Violin Sonata No. 2 in G (17.09)
4. I. Allegretto (7.44)
5. II. Blues: Moderato (5.26)
6. III. Perpetuum mobile: Allegro (3.58)

Claude Debussy (1862 – 1918)
7. Claire de lune (5.04) *
transcribed for solo violin by David Matthews and Philippe Graffin; dedicated to Eugène Ysaÿe
Eugène Ysaÿe (1858 – 1931)
8. Petite Fantasie romantique (4.59) *
George Enescu (1881 – 1955)
Violin Sonata No. 3 in A minor, Op. 25 (26.08)
'Dans le caractère populaire roumain'
9. I. Moderato malinconico (9.20)
10. II. Andantino sostenuto e misterioso (8.25)
11. III. Allegro con brio, ma non troppo mosso (8.23)
Maurice Ravel (1875 – 1937)
12. Berceuse sur le nom de Gabriel Fauré (2.43)
George Enescu (1881 – 1955)
13. Hora Unirii (1:52)
Total time: 68.15
* world-premiere recordings
Recording: 14, 23 & 24 September 2018, Klaus von Bismarck Saal, WDR Funkhaus, , Cologne, Germany
Recording producer: Kaling Hanke
Executive producer: Michael Breugst