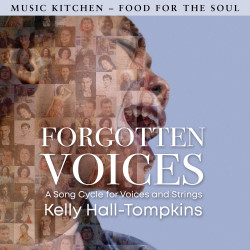 Title:
Forgotten Voices – A Song Cycle for Voices and Strings
Artists:
Kelly Hall-Tompkins, violin, producer
Allison Charney & Adrienne Danrich, soprano
Jesse Blumberg, baritone | Mark Risinger, bass
Ling Ling Huang, violin | Andrew Gonzalez, viola
Peter Seidenberg & Alexis Gerlach, cello
John-Paul Norpoth, double bass
DOWNLOAD AND STREAM
Summary:
"Just Three blocks from Lincoln Center…The concerts have an air of authenticity and directness that sometimes does not exist in concert halls." - The New York Times
"Kelly Hall-Tompkins' pioneering organization Music Kitchen-Food for the Soul … the premiere of Forgotten Voices, a composite song cycle written by top emerging and established composers" – The Whole Review
"direct and simple but also poignant and sometimes little gems" – American Record Guide

Multi-award-winning violinist Kelly Hall-Tompkins is the entrepreneurial spirit behind Music Kitchen, the pioneering project that brings top classical music and musicians into homeless shelters, sharing the inspirational, therapeutic, and uplifting power of music with those experiencing homelessness. Founded in New York City, Music Kitchen has presented over 100 concerts to more than 30,000 homeless shelter clients coast to coast, including in Los Angeles, Cincinnati, Oakland, Rochester, and internationally in Paris, France. According to the New York Times, "The concerts have an air of authenticity and directness that sometimes does not exist in concert halls."
Forgotten Voices is a song cycle commissioned by Music Kitchen – Food for the Soul, with support from Carnegie Hall, comprising works by 15 of today's foremost composers featuring evocative and poignant texts by homeless shelter clients that have provided a profound source of inspiration and reverence.
Forgotten Voices premiered to a sold-out Carnegie Hall audience in March 2022 and inspired a short film that has won multiple awards at festivals around the globe, including Winner: Best Cause-Driven Film and Finalist: Best Director and Best Documentary at the Cannes World Film Festival, Winner: Best Short Film at the Los Angeles Documentary Film Festival, and Winner: Best Short Documentary at the Berlin Indie Film Festival.
Tracklist:
Forgotten Voices – A Song Cycle for Voices and Strings
1. STEVE SANDBERG: Thank You (April 30, 2019 Cluster House) 4.21
2. JEFFREY SCOTT: Für meinen Vater (January 29, 2019 Olivieri Center) 6.18
3. ERROLLYN WALLEN: My Soul (August 1, 2019 Cluster House) 3.27
4. JON GRIER: Save It in My Jewelry Box (July 31, 2019 Cluster House) 4.16
5. ELLEN TAAFFE ZWILICH: Music Kitchen Interplay (September 30, 2019 Main Chance) 4.24
6. COURTNEY BRYAN: You Made My Day (October 29, 2019 Olivieri Center) 3.29
7. KELLY HALL-TOMPKINS: Gretchen's Threads (March 23, 2019 Holy Trinity, HUG Program) 2.30
8. JAMES LEE III: From My Heart (February 25, 2019 Olivieri Center) 5.32
9. KEVIN PUTS: Bad Ass (January 7, 2020 Cluster House) 1.49
10. KAMALA SANKARAM: Hooking In (May 20, 2020 via Zoom) 3.51
11. GABRIEL KAHANE: All Is Quiet (February 19, 2020 Olivieri Center) 3.29
12. CARLOS SIMON: A Wonderful Hearing (November 25, 2019, 52nd Street Women's Center) 4.06
13. ANGÉLICA NEGRÓN: These Strings (December 31, 2019, 52nd Street Women's Center) 3.16
14. BEATA MOON: At Peace (June 19, 2019 Cluster House) 3.05
15. PAUL MORAVEC: Music Is Love (May 29, 2019 Main Chance) 3.09
16. PAUL MORAVEC: Music Is Love (tutti reprise) 4.06
Total Duration: 62.21
Allison Charney, soprano (2, 4, 7, 8, 14, 16) | Adrienne Danrich, soprano (3, 6, 10, 12, 15, 16)
Jesse Blumberg, baritone (1, 9, 11, 13, 16) | Mark Risinger, bass (5, 16)
Kelly Hall-Tompkins, violin
Ling Ling Huang, violin (1–4, 8–13, 15, 16) | Andrew Gonzalez, viola (1–4, 8–16)
Peter Seidenberg, cello (1–4, 6, 16) Alexis Gerlach, cello (7–16)
John-Paul Norpoth, double bass (2, 9, 13, 16)
Recorded: 23–25 September 2021, Centennial Memorial Temple of the Salvation Army, New York Producer: Kelly Hall-Tompkins
Recording Engineer, Editing and Mastering: Bill Siegmund (Digital Island Studios, New York)