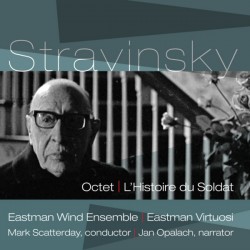 Title:
Stravinsky: Octet; L'Histoire du Soldat (The Soldier's Tale) **
Price:
£7.79 | 40% discount (usual price £12.99)
Summary:
Harking back to a golden era in recording, when the ensembles of the Eastman School of Music under the baton of the legendary Frederick Fennell made dozens of pioneering recordings for Mercury Living Presence, the Eastman Wind Ensemble celebrates its 60th anniversary with its first recording for AVIE Records featuring two seminal works by Stravinsky. The composer's music figured early on in the EWE's history – his Symphonies for Wind Instruments was performed in 1951 on a program conducted by Frederick Fennell that led to the establishment of the Eastman Wind Ensemble. And in 1966, at the age of 83, Stravinsky made his one and only visit to the Eastman School of Music, overseeing performances of several of his works. Under Mark Scatterday, who continues in the prestigious lineage as only the fourth conductor in the EWE's history, the superior student ensemble performs Stravinsky's Octet, while Eastman Virtuosi, made up of the Eastman School's renowned faculty members, turn in a devilishly fine rendition of A Soldier's Tale. Jan Opalach delivers an exceptionally nuanced narration as well as portraying the folk tale's two protagonists, Joseph the solider and the Devil.
Tracklist:
IGOR STRAVINSKY (1882–1971)
Octet
1. I. Sinfonia (Lento—Allegro moderato) (4:04)
2. II. Tema con variazioni (Andantino) (8:00)
3. III. Finale (Sempre = 116, Tempo giusto) (3:42)
L'Histoire du Soldat (The Soldier's Tale) (45:11)
1. L'Histoire du Soldat (The Soldier's Tale) – Part I: The Soldier's March
2. L'Histoire du Soldat (The Soldier's Tale) – Part I: Narration
3. L'Histoire du Soldat (The Soldier's Tale) – Part I: Music to Scene I
4. L'Histoire du Soldat (The Soldier's Tale) – Part I: Narration
5. L'Histoire du Soldat (The Soldier's Tale) – Part I: Music to Scene II
6. L'Histoire du Soldat (The Soldier's Tale) – Part I: Narration
7. L'Histoire du Soldat (The Soldier's Tale) – Part I: Music to Scene IIIa
8. L'Histoire du Soldat (The Soldier's Tale) – Part I: Narration
9. L'Histoire du Soldat (The Soldier's Tale) – Part I: Music to Scene IIIb
10. L'Histoire du Soldat (The Soldier's Tale) – Part I: Narration
11. L'Histoire du Soldat (The Soldier's Tale) – Part II: The Soldier's March
12. L'Histoire du Soldat (The Soldier's Tale) – Part II: Narration
13. L'Histoire du Soldat (The Soldier's Tale) – Part II: The Royal March
14. L'Histoire du Soldat (The Soldier's Tale) – Part II: Narration
15. L'Histoire du Soldat (The Soldier's Tale) – Part II: The Little Concert
16. L'Histoire du Soldat (The Soldier's Tale) – Part II: Narration
17. L'Histoire du Soldat (The Soldier's Tale) – Part II: Three Dances. Tango, Waltz, Ragtime
18. L'Histoire du Soldat (The Soldier's Tale) – Part II: Narration
20. L'Histoire du Soldat (The Soldier's Tale) – Part II: The Devil's Dance
21. L'Histoire du Soldat (The Soldier's Tale) – Part II: Narration
22. L'Histoire du Soldat (The Soldier's Tale) – Part II: The Little Chorale
23. L'Histoire du Soldat (The Soldier's Tale) – Part II: The Devil's Song
24. L'Histoire du Soldat (The Soldier's Tale) – Part II: Great Chorale
25. L'Histoire du Soldat (The Soldier's Tale) – Part II: Narration
26. L'Histoire du Soldat (The Soldier's Tale) – Part II: Triumphal March of the Devil
Total duration: 60:57
Octet: Recorded 11–12 May 2011, Eastman East Wing / Engineer: John Truebger · Producer: Christopher Unger
L'histoire du Soldat: Recorded 2 September 2011, Eastman East Wing Engineer: John Truebger · Producer: Jeff Tyzik / Production assistants: Christopher Unger and Reed Chamberlin / Post-production: John Truebger
Mastering: Randy Merrill at Scott Hull Mastering, Inc / Masterdisk, New York, NY