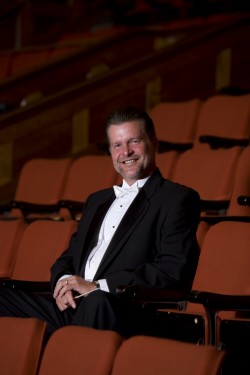 Biography:
The fourth conductor of the Eastman Wind Ensemble, Mark Davis Scatterday joined a prestigious line of conductors in the past 60 years of this famed ensemble: Donald Hunsberger, Clyde Roller and Frederick Fennell. In 2004, he led the EWE in a tour to East Asia, and in 2005, a highly acclaimed performance at Carnegie Hall. In December 2009, the EWE performed at the Midwest Clinic in Chicago to an audience of over 4,000. In the fall of 2010, Scatterday conducted the New World Symphony in Miami, returning in 2011 for a concert in the orchestra's new Frank Gehry-designed Symphony Hall.
Mark Scatterday's articles about score analysis, performance practices and conducting have been published in Wind Works, College Band Director's National Association Journal and Band Director's Guide, and he is a prolific arranger. He is also a lead clinician in the Frederick Fennell Conducting Master Classes held annually by the Conductor's Guild. An advocate of contemporary music, especially the music of Karel Husa and Roberto Sierra, Scatterday has commissioned, premiered, and recorded over 25 works. His recent recordings include Danzante, with James Thompson and the Eastman Wind Ensemble (Summit Records, 2006), and Barcelonazo, with Eastman Musica
Nova (Bridge Records; nominated for a 2008 Latin Grammy). The EWE's CD with the Canadian Brass, Manhattan Music, was nominated for a 2009 Canadian Grammy, the 'JUNO'.