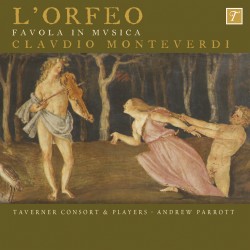 Price:
£14.99 (2 CD deluxe | 52 page libretto) | 40% discount (usual price £24.99)
DOWNLOAD AND STREAM
Summary:
"with Charles Daniels and Faye Newton superb as Orfeo and Euridice, and sensual singing and playing, this is the most beguiling Monteverdi opera recording for years" ★★★★★ – The Times
"Daniels is magnificent in the title role – technically brilliant … impassioned … and lyrically supple… As one may expect from Andrew Parrott, the instruments are very adroitly deployed and controlled" ★★★★ – BBC Music Magazine
"the presentation is faithful to the original small-scale salon performances, which were more like poetic oratorios than grand opera. Thus, colourful singing is eschewed in favour of an almost spoken-sung recitative, with comparatively undemonstrative accompaniment from sparse instruments" ★★★★ – The Independent
"the AVIE set favours near-vibrato-less singers of ambiguous fach – proper voices indeed (not the vernacular singing occasionally heard in Monteverdi) but not necessarily ones you'd typically hear in modern opera houses … More than usual, instrumentalists are active story-telling participants" – Gramophone
"We can hear Parrott's approach most clearly in Orfeo himself … Daniels reserves his emotional outbursts for a very few key moments … In the same vein, Emily van Evera does the tricky Messenger scene with chilling simplicity …'Possente spirto' – the highlight of the work – is a triumph" – International Record Review
"Charles Daniels gives a sensitive and intimate portrayal of the part of Orfeo. Under Parrott's direction, the first-rate team of instrumentalists further enrich our experience in a shapely reading of a still lovely, still fresh masterpiece" – The Sunday Times
"This new version of Monteverdi's Orfeo is thoroughly researched and reimagined…a gentle, lyrical vision of a miraculous opera" – The Observer

Andrew Parrott and the Taverner Consort & Players celebrate their 40th anniversary with a magnificent recording of the world's first operatic masterpiece, Monteverdi's L'Orfeo. As can be expected from Andrew Parrott, who has been at the centre of the early and baroque music scene for over four decades, his meticulous research results in a performance and stylistic approach that brings a fresh perspective to the myth of love lost and found through the art of music. His scholarship, combined with the collaborative nature of the Taverners, translates into a performance brought to life by the finest singers and instrumentalists in the early music world, including tenor Charles Daniels who is the superb Orfeo. Befitting such an outstanding recording, the 2-CD set is luxuriously packaged with extensive notes and the complete libretto with English translations in a 52-page booklet.
Tracklist:
CLAUDIO MONTEVERDI (1567–1643)
L'Orfeo
Favola in Musica • Libretto by Alessandro Striggio
CD 1
1. Toccata (2.16)
PROLOGO
2. Ritornello – Dal mio Permesso amato La Musica (6.12)
ATTO PRIMO
3. In questo lieto e fortunato giorno Pastore 2 (1.32)
4. Vieni Imeneo, deh vieni Choro (0.49)
5. Muse, honor di Parnaso Ninfa (0.53)
6. Balletto – Lasciate i monti Choro (0.54)
7. Ma tu gentil cantor Pastore 1 (0.44)
8. Rosa del Ciel, vita del Mondo Orfeo (1.57)
9. Io non dirò Euridice (0.46)
10. Balletto – Lasciate i monti Choro (0.55)
11. Vieni Imeneo, deh vieni Choro (0.48)
12. Ma s'il nostro gioir Pastore 3 (0.46)
13. Ritornello – Alcun non sia Pastori (3.59)
ATTO SECONDO
14. Sinfonia – Ecco pur ch'a voi ritorno Orfeo (3.27)
15. Ritornello – Vi ricorda o boschi ombrosi Orfeo (2.32)
16. Mira, deh mira Orfeo Pastore 2 (0.29)
17. Ahi caso acerbo Messaggiera (2.50)
18. In un fiorito prato Messaggiera (3.25)
19. Tu se' morta Orfeo (2.17)
20. Ahi caso acerbo Pastori (1.16)
21. Ma io Messaggiera (1.21)
22. Sinfonia – Chi ne consola ahi lassi? Pastori (7.09)
Total duration CD 1: 47.19
CD 2
ATTO TERZO
1. Sinfonia (1.28)
2. Scorto da te mio Nume Orfeo (1.16)
3. Ecco l'atra palude Speranza (2.46)
4. Dove, ah dove te n' vai Orfeo (0.39)
5. O tu ch'innanzi morte Caronte (1.38)
6. Sinfonia – Possente Spirto Orfeo (9.01)
7. Ben mi lusinga alquanto Caronte (0.45)
8. Ahi sventurato amante Orfeo (1.09)
9. Sinfonia – Ei dorme Orfeo (2.33)
10. Sinfonia – Nulla impresa per huom Choro (3.39)
ATTO QUARTO
11. Signor quell'infelice Proserpina (2.30)
12. Benchè severo & immutabil fato Plutone (3.02)
13. Quali grazie ti rendo Proserpina (2.00)
14. Ecco il gentil cantore Un Spirito (2.37)
15. O dolcissimi lumi Orfeo (2.36)
16. Sinfonia – È la virtute un raggio Choro (3.43)
ATTO QUINTO
17. Ritornello – Questi i campi di Tracia Orfeo (7.34)
18. Sinfonia – Perchè a lo sdegno & al dolor Apollo (4.10)
19. Saliam cantando al Cielo Apollo, Orfeo (1.12)
20. Ritornello – Vanne Orfeo felice a pieno Choro (0.59)
21. Moresca (0.59)
Total duration CD 2: 56.17
Charles Daniels (Orfeo), Faye Newton (Euridice), Emily Van Evera (Messaggiera), Clare Wilkinson (Speranza/Proserpina), Curtis Streetman (Caronte), Christopher Purves (Plutone), Anna Dennis (Ninfa), Guy Pelc (Apollo)
Taverner Consort & Players
Andrew Parrott, director
Recorded 23–28 July 2012, Church of St Michael & All Angels, Summertown, Oxford
Recording producer and engineer: Adrian Hunter