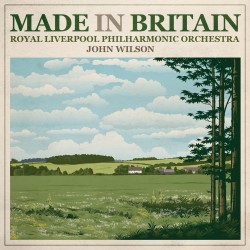 Summary:
"[Clark's] playing has rapturous firepower…John Wilson's conducting secures ultra-vivid, sparklingly finished performances that also respond memorably to the quieter moments" – ★★★★ BBC Music Magazine
"The celebrated John Wilson brings his interpretative magic to bear on these pieces, which often transplant you so fully into the era you have to check you're not wearing a peplum suit or Oxford bags. The general mood is one of unhurried romanticism. The RLPO gently draws out every subtlety" – ★★★★ Classic FM Magazine – CD of the Week
"a well-chosen programme of English orchestral miniatures very well recorded. He opens with Walton's portrait of the commedia dell'arte character Scapino, full of gusto yet bringing out tenderly the contrasting romantic episodes that fill out the character…Delius's sensuously romantic Walk to the Paradise Garden and Bax's lushly scored The Happy Forest are made glowingly radiant in John Wilson's richly textured evocations." - Gramophone
"John Wilson is probably best known for his light-entertainment orchestral work, especially his restorations of classic film scores – a background which, it turns out, equips him well for this anthology of British musical landscapes." - The Independent

Made in Britain celebrates a rich and nostalgic period of English music surrounding the turn of the 20th century, including evergreens such as Vaughan Williams' The Lark Ascending (for years Number 1 in the Classic FM Hall of Fame) and Elgar's Salut d'amour, as well as the folk inspired Two English Idylls by Butterworth and English Folk Song Suites by Vaughan Williams. The programme opens with Walton's commedia dell'arte concert overture Scapino and closes with the Nell Gwyn Overture by Edward German, music director of London's Globe Theatre from 1888. Along the way we take a walk through Delius' Paradise Garden from his opera A Village Romeo and Juliet, and stroll through Bax's woodland evocation The Happy Forest.
Overseeing this celebration is none other than today's leading interpreter of British Music, John Wilson conducting the Royal Liverpool Philharmonic, the UK's oldest professional orchestra which, founded in 1840, is steeped in this glorious musical tradition. Made in Britain catches a prevailing mood and taps into today's all-encompassing appetite for an evocative era.
Tracklist:
WILLIAM WALTON (1902–1983)
1. Scapino Overture (8:27)
GEORGE BUTTERWORTH (1885–1916)
Two English Idylls
2. No. 1 (5:19)
3. No. 2 (4:35)
FREDERICK DELIUS (1862–1934)
4. The Walk to the Paradise Garden (9:09)
ARNOLD BAX (1883–1953)
5. The Happy Forest (9:59)
EDWARD ELGAR (1857–1934)
6. Salut d'amour (3:18)
RALPH VAUGHAN WILLIAMS (1872–1958)
English Folk Song Suite
7. March: 'Seventeen Come Sunday' (2:53)
8. Intermezzo: 'My Bonny Boy' (3:07)
9. March: Folk Songs from Somerset (3:05)
RALPH VAUGHAN WILLIAMS
10. The Lark Ascending * (14:29)
EDWARD GERMAN (1862–1936)
11. Nell Gwyn Overture (7:31)
Total time: 72:39
*James Clarke, violin
Recorded: 7–8 April 2010, Liverpool Philharmonic Hall, Liverpool
Producer: John Fraser
Recording engineer and mixing: Philip Hobbs
Editing: Julia Thomas