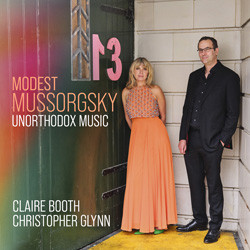 Summary:
"Operatic vividness and tremendous panache – A 'cradle-to-grave songspiel' describing the arc of a woman's life is brilliantly conceived by soprano Booth and pianist Glynn… The whole thing is a joy" ★★★★★ The Guardian
"A Mussorgsky melange full of surprises … David Nice enjoys [a] multi-faceted recital… vivid character… a picture-perfect presentation of both text and music… classy work all-round" ★★★★ Choral & Song Choice, BBC Music magazine
"it delivers for me at several levels … weaving an imaginative recital from surprising and delightful corners of Mussorgsky's songs and piano pieces … a fine follow up to their Grainger and Grieg recitals." Record Review, BBC Radio 3
"What a breath of fresh air this album is …Booth brings incisive diction and bags of character to everything." Editor's Choice, Presto Music
"The result is a treasure trove of vivid storytelling through music" ★★★★ The Irish Times
First Percy Grainger: Folk Music, then Edvard Grieg: Lyric Music, and now Modest Mussorgsky: Unorthodox Music – a logical sequence in soprano Claire Booth's and pianist Christopher Glynn's growing AVIE discography, interspersing a selection of under-represented songs with solo piano works by this most individual and idiosyncratic of all Russian composers.
Claire and Chris approach Modest Mussorgsky: Unorthodox Music in the spirit of a storyteller, tracing an arc of life from innocence to experience that is arranged across a prologue and four "scenes" – Nursery, Youthful Years, Marriage and Loneliness – taking their cue from the colourful tableaux of the composer's operas.
Individual numbers from the great song cycles – Youthful Years, Nursery, Sunless, and Songs and Dances of Death – are juxtaposed with works from Mussorgsky's more unorthodox output, all delivered by Claire and Chris with disarming affect.
Tracklist:
MODEST MUSSROGSKY (1839–1881)
UNORTHODOX MUSIC
Prologue
1. The Billy Goat – A Society Tale (02:31)
Nursery
2. Nanny and I (Memories of Childhood) (01:16) *
3. With Nanny (Nursery) (01:48)
4. In the Corner (Nursery) (01:39)
5. Nanny locks me in a dark cupboard (Memories of Childhood) (01:32) *
6. With the Doll (Nursery) (01:57)
7. Hobby Horse (Nursery) (03:24)
Youthful Years
8. Porte-enseigne Polka (03:02) *
9. Desire (02:39)
10. Impromptu-passioné (02:34) *
11. Many have grown from my tears (01:41) 
12. Hopak of the Merry Young Ukrainians (from the opera Sorochintsky Fair) (01:51) *
13. Night (04:16)
Marriage
14. Hopak (03:12)
15. Oh, how your eyes look at me sometimes (02:37)
16. Oh, you drunken sot! (03:01)
17. Intermezzo in modo classico (03:34) *
18. Trepak (Songs and Dances of Death) (05:02)
Loneliness
19. Méditation (Album Leaf) (04:17) *
20. The leaves rustled softly (03:41)
21. Cum mortuis in lingua mortua (Pictures at an Exhibition) (02:40) *
22. Within four walls (Sunless) (01:33)
23. On the River (Sunless) (04:22)
24. Rêverie (05:12) *
Claire Booth, soprano
Christopher Glynn, piano (*solo: 2, 5, 8, 10, 12, 17, 19, 21, 24)
Recordings: October 2020, Pyrton, Oxfordshire (1, 3, 4, 6, 7, 9, 11, 13–16)
March 2021, Menuhin Hall, Surrey (2, 5, 8, 10, 12, 17–24)
Pianos: Steinway | Producer: Jeremy Hayes | Engineer: Ben Connellan