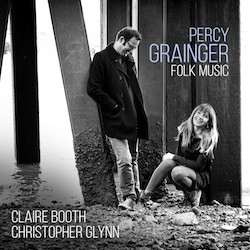 Title:
Percy Grainger: Folk Music
Artists:
Claire Booth, soprano
Christopher Glynn, piano
Summary:
Percy Grainger was an extraordinary human being and musician – a precocious pianist, colourful composer and world traveller, a peculiarly passionate and emotive eccentric whose fertile mind produced an expansive oeuvre of original and inventive works. Above all Grainger is best known for his most enduring musical endeavour, his exploration and dissemination of folk music. With this release, soprano Claire Booth and pianist Christopher Glynn, who have spent decades delving into Grainger's folk music output, document their fascination with the multifaceted firebrand, and bring his alluring music to a wider audience.
Grainger's success resulted in multiple versions of his folk song settings, for orchestra, wind band, chamber ensemble and choir. But it's perhaps his versions for voice and piano that are the most characteristic, bringing out Grainger's own highly individual style at the keyboard. Claire's and Christopher's survey, one of the most comprehensive available on the market today, offers a variety of transcriptions of songs found in collections from the British Isles as well as discoveries Grainger heard as he roamed throughout the field. The album concludes with Grainger's most celebrated piece, English Country Gardens, in which Claire makes a cameo appearance on piano, joining Christopher in a rousing duet.
Tracklist:
Percy Grainger (1882 – 1961)
1. Bold William Taylor (4.08)
2. Six Dukes Went Afishin' (2.24)
3. Knight and Shepherd's Daughter (2.58) *
4. Lord Maxwell's Goodnight (3.02)
5. My Robin Is to the Greenwood Gone (5.5 ) *
6. The Pretty Maid Milkin' Her Cow (1.15)
7. The Sprig of Thyme (2.40)
8. The Sussex Mummers' Christmas Carol (2.13) *
9.  The Twa Corbies (3.08)
10. Irish Tune from County Derry (3.22) *
11. Died for Love (1.20)
12. The Power of Love (4.10)
13. Walking Tune (4.26) *
14. Willow Willow (3.34)
15. Early One Morning (2.54)
16. One More Day, My John (2.14) *
17. Hard Hearted Barb'ra (H)Ellen (6.39)
18. Country Gardens (1.51) **
Total time: 58.11

Recording: June & November 2015, Potton Hall, Suffolk
Producer: Jeremy Hayes
Engineer: Ben Connellan
* Piano solo (Christopher Glynn)
** Piano duet (Claire Booth and Christopher Glynn)