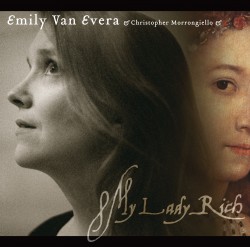 Artists:
Emily Van Evera, soprano
Christopher Morrongiello, lute
Summary:
Soprano Emily Van Evera is an uncommonly versatile singer. Her luminous voice blends sense with sensuousness, and can sound at once tender and thrillingly beautiful. Fittingly, Van Evera's inspiration for this recording is Lady Penelope Rich, a "heart-stealing goddess" who was sister to the Earl of Essex, muse to poets and musicians and the devoted mistress to Lord Mountjoy. She also inspired some of the finest music by composers of Elizabethan England.
The music on My Lady Rich ranges from the Shakespearean (How should I your true love know – from Hamlet, a mad song of Ophelia's, the tragic character to whom Lady Rich's predicament has been likened), to the Spanish Vuestros ojos (Lady Rich was famously fluent in Spanish), from the spirited (Hampton Court Masque in which Lady Rich took part in 1604) to the sorrowful (And is it night, a nocturnal yearning for a lost lover).
Emily Van Evera has won international acclaim for her numerous ground-breaking and award-winning recordings, particularly of earlier repertoire. Her chart-topping CD of the music of Hildegard von Bingen was singled out by The Gramophone for her characteristic expressivity: "the sheer power of the words comes across nowhere else as strongly as in Van Evera's performance."
Tracklist:
1. ANONYMOUS How Should I Your True Love Know (00:28)
2. Robert JONES (fl. 1597 – 1615) O He Is Gone (02:28)
3. Robert JONES And Is It Night? (03:50)
4. John DOWLAND (c. 1563 – 1626) Mr Dowland's Midnight (01:00)
5. William BYRD (c. 1540 – 1623) Weeping Full Sore (06:26)
6. John DOWLAND My Lady Rich's Galliard (01:52)
7. ANON Hampton Court Masque (02:05)
8. John DOWLAND Come When I Call (01:53)
9. Charles TESSIER (fl. 1600) Casche Toy, Celeste Soleil (03:16)
10. Charles TESSIER Au Joly Bois (01:58)
11. ANON Vuestros Ojos (01:17)
12. Charles TESSIER Reveillez Vous, Belle Cattin (02:35)
13. ANON Corranto Lady Riche (01:17)
14. William BYRD In Fields Abroad (04:28)
15. ANON My Little Sweet Darling (01:14)
16. ANON A La Volta Mistress Lettice Rich (00:32)
17. John BARTLET (fl. 1606 – 1610) Surcharged With Discontent (01:19)
18. John BARTLET The Thrush Did Pipe Full Clear (03:40)
19. John BARTLET Then Hesperus On High (01:28)
20. ANON Sweet Stay Awhile (01:44)
21. Anthony HOLBORNE (c. 1545 – 1602) A Toy (01:01)
22. Anthony HOLBORNE He Is Dead And Gone, Lady (00:31)
23. Anthony HOLBORNE The Funerals (04:17)
24 – 30. John COPRARIO (d. 1626) Funeral Teares (22:56)
Total time: 74:35
Recorded March 1997 and October 2003 at St Andrew's Church, Toddington, Gloucestershire, UK
Produced and engineered by Nicholas Parker
Reviews:
Gramophone - Read here...