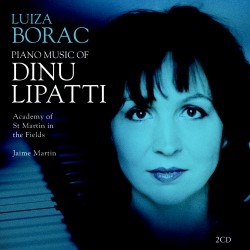 Title:
Piano Music of Dinu Lipatti **
Price:
£11.25 (2 CDs) | 40% discount (usual price £18.75)
Summary:
Pianist Luiza Borac is the most dedicated champion of music from her native Romania. She was recognised with a BBC Music Magazine Award for her artistry and advocacy of the piano canon of Georges Enescu. She now turns to another compatriot best known as one of the greatest pianists of the 20th century who was also during his short lifetime a celebrated composer: Dinu Lipatti. With influences that range from the counterpoint of Bach to the lyricism of Chopin and the folk-tinged soundscapes of Enescu (Lipatti's godfather), as well as his teachers Paul Dukas and Nadia Boulanger, Lipatti forged an individual voice over the 18 years of his compositional career.
The rarities that Luiza has unearthed for this 2-disc set include a number of world-premiere recordings including Lipatti's first Piano Sonata, an arrangement of Albeniz's Navarra, and the complex Fantasie. For the Concertino in Classical Style, Lipatti's first published composition, Luiza is joined by the Academy of St. Martin in the Fields conducted by Jaime Martin. Aiming to recreate Lipatti's sound world as faithfully as possible, Luiza performs on a Bechstein piano, Lipatti's instrument of choice.
In a tribute written shortly after Lipatti's death at the age of 33, Nadia Boulanger wrote, "When the compositions of Dinu Lipatti are all printed, the greatness of his gift and of his craftsmanship will be recognised." Through these recordings, Luiza Borac reveals the extent of those gifts which can be appreciated to a fuller extent than ever before.
Tracklist:
DINU LIPATTI (1917–1950)
CD 1
Concertino en style classique, Op. 3 * (17.56)
for piano and chamber orchestra (1936, dedicated to Florica Musicesco)
1. I Allegro maestoso (4.15)
2. II Adagio molto (4.41)
3. III Allegretto (3.32)
4. IV Allegro molto (5.28)
Sonatine for the left hand (1941) (8.40)
5. I Allegro (2.28)
6. II Andante espressivo (3.17)
7. III Allegro (3.01)
Piano Sonata in D minor (1932) * * (22.08)
Motto: Musica este limbagiul zeilor – 'Music is the Language of Gods' (1932)
8. I Allegro moderato (9.17)
9. II Andante (3.57)
10. III Allegro (8.59)
11. Navarra (1940) * * (5.50)
by Albeniz, arranged by Lipatti
12. Nocturne in F sharp minor, Op. 6 (4.57)
(dedicated to Clara Haskil) Andante, ma non troppo
13. Nocturne in A minor (3.39)
on a Moldovan theme – Moderato
Total time CD 1: 63.22
* Academy of St Martin in the Fields conducted by Jaime Martin
CD 2
Fantaisie, Op. 8 * *
(1940, dedicated to Madeleine Cantacuzène)
Première partie
1. I Andante malinconico (3.36)
2. II Molto tranquillo (6.35)
3. III Presto (5.09)
Deuxième partie
4. I Allegretto cantabile (3.37)
5. II Allegro (10.56)
Pastorale in F, BWV 590
by J. S. Bach, transcribed by Lipatti
6. I Andantino tranquillo (1.58)
7. II Allegretto grazioso (2.29)
8. III Andante cantabile (2.48)
9. IV Allegro deciso (2.12)
Was mir behagt ist nur die muntre Jagd!, BWV 208
by J. S. Bach, transcribed by Lipatti
10. XIII Weil die wollenreichen Herden (2.38)
11. IX Schafe können sicher weiden (Sheep may safely graze) (4.49)
Total time CD 2: 47.08
* * world-premiere recordings
Recorded 23 – 27 April 2012, Jesus-Christus Church, Berlin (solo piano); 11 July 2012, St. Johns Smith Square, London (Concertino)
Recording engineer & Tonmeister: Holger Siedler
Assistant sound: Ulf Ronneberger (London)
Engineering services (London): Phil Rowlands