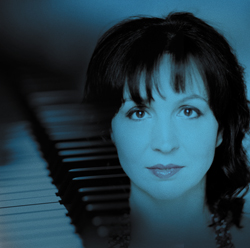 Biography:
Winner of the BBC Award 2007 for the best solo CD recording of the year, and of more than 30 top prizes and distinctions, Luiza Borac has gained international recognition through her dazzling stage presence, her passionate interpretations and her sovereign technique.
Hailed as "a virtuoso of fantastic brilliance" and "poetic artist" (Joachim Kaiser, Süddeutsche Zeitung) by the international press, Luiza held a scholarship of the Chopin Society Hannover to complete her studies at the Hannover Music Academy, graduating both in Hannover and Bucharest with highest degrees. She has completed he studies at the Juillard School of Music New York and Como International Piano Foundation (Artistic Director Martha Argerich).
Luiza Borac performed extensively in Europe and USA where her concerts were broadcasted by major radio/TV stations. She performed solo recitals at the Carnegie Weill Hall, Walt Disney Hall, Steinway Hall, Cologne Philharmonie, Concertgebouw Amsterdam, Athenaeum Bucharest, Puccini Hall Milan, Radio Hall Hamburg, Konserthus Stockholm, Liederhalle Stuttgart and appeared in festivals including Aldeburgh Music Festival of Music and the Arts, Schleswig-Holstein Music Festival, Oslo Grieg, Prokofiev at the Barbican Centre London, Enescu Bucharest, Chopin Festivals in Vienna and Milan, Bohemian Music Festival. She has performed as soloist with Netherlands Philharmonic Orchestra, Philharmonic Orchestra of Nations, Bucharest and Cologne Radio Orchestras, Utah Symphony Orchestra and has worked with artists like Vladimir Jurowski, Murray Perahia and Radu Lupu among others.
She has recorded for many Radio, TV and CD productions around Europe and the USA. Her recording repertoire includes works by Beethoven, Brahms, Schubert, Chopin, Schumann, Liszt, Kreisler-Rachmaninoff, Franck, Enescu, Lipatti und Janacek. With AVIE Records Luiza has worked for more than 10 years and recorded 6 Albums.
Luiza Borac caused a critical stir as she was called at short notice to replace indisposed Sviatoslav Richter during 1991 Schleswig- Holstein Music Festival. That same year she was a prize-winner of the Enescu International Piano Festival and was awarded the Romanian Critics Prize with the distinction "Young Artist of the Year".
She won First prizes at the 1997 Viotti-Valsesia(Italy) and Mendelssohn(Germany) International Piano Competitions as well as the Silver Medal of Gina Bachauer International Piano Competition in Salt Lake City 1998, the 1st Prize and Prix d'Oslo, Grieg Prize and Audience Prize of Grieg International Piano Competition Oslo 2002, as well as the East & West International Prize 2001 for a New York Debut Recital at Carnegie Hall, which received a rave review in the New York Concert Reviews (Harris Goldsmith).
Luiza has spectacularly raised international awareness of her great compatriot GEORGE ENESCU. Her 2003 recording of George Enescu's Three Piano Suites for AVIE Records was highly acclaimed throughout the world not only for her wonderfully idiomatic performances – "excellent playing" (Gramophone) "formidable interpreter" (San Francisco Chronicle), "best performance" (BBC Music Magazine) – but also for the truthful quality of the recorded sound. For the german leading music magazine Fono Forum the recording was the "Star of the Month" in December 2003 and a hybrid-SACD version was subsequently released about which What Hi-Fi magazine UK said – "Luiza Borac's take on Enescu's Piano Suites is a testing mix of rapid-fire notes, an uncluttered acoustic and moments of breathtaking subtlety."
Her next CD recording for Avie – WANDERER – with works by Schubert and Liszt released in 2005 was described as "impressive mastery", "player of much imagination and integrity" by the Gramophone (Bryce Morrison), "mercurial readings and prismatic colours' by the American Fanfare (Peter Rabinowitz).
With her next Album for AVIE, Double CD set George ENESCU Vol. 2, Luiza Borac completed the recording of the piano works by George Enescu, a World Premiere Project. The CD "spectacularly played and recorded" (Los Angeles Times) was featured as Cover Story for the American CD magazine Fanfare and received a special interview Feature in the German leading magazine Fono Forum.
The Album went on to win the BBC Music Award 2007 for the best instrumental CD of the year with more than 40 000 public votes. In the Laudatio of the BBC Award the Jury wrote: "With this set Luiza Borac illuminates some extraordinary, richly inventive piano music with subtle but absolute mastery. This is a set to place Enescu among great composers, superbly, idiomatically played, vehemently recommended" (BBC Music Magazine) and "Borac's only substantial rival is Dinu Lipatti in the 3rd Sonata" (Gramophone).
In the same year Luiza Borac received Romania's leading music magazine Music News Award for her promotion of the Romanian music on the international stage and was invited to perform a complete Enescu recital during the Enescu International Festival in Bucharest in September 2007. The Recital was broadcast Live on Romanian Radio and TV and was featured in a Celebrities Portrait Series, produced by the Romanian TV Cultural.
In July 2009 a new Album of Luiza Borac was launched, featuring the 24 Etudes and the Polish Songs by CHOPIN, which received a 4 star review in The Times for the "subtlety of touch and phrasing, …recording of caressing depth" as well as excellent reviews worldwide – "..easily the best vesions of those currently available…grace, radiant tone" (Gramophone), "one of the most consistantly admirable accounts among current complete editions" (International Record Review). For Luiza, this recital has musical as well as personal significance as it pays tribute to her long-time supporter and producer, the late John Barnes, with whom she has worked together for over 15 years and who was for many years Glyndebourne's recording producer.
Also in 2009 Luiza Borac performed the World Premiere of the recently discovered composition "Ahnung" (Intuition) by Robert Schuman, originally featured in the Kinderscenen op. 15 – the first unknown work by Schumann that has been discovered since the early 20th century. The event has been featured by all major german press publications -'a sensational discovery' (Die Welt). In 2010 Ms. Borac premiered Schumann's "Ahnung" for North America in Los Angeles Bing Theater broadcast by Sundays Live! and for South America in Monterrey Teatro San Pedro, broadcast on TV.
Ms. Borac has served as a jury member and adjudicator of major international piano competitions such as the Gina Bachauer Junior Piano Competition, the International Piano Competitions "Ennio Porrino" of Cagliari and 'Città di Bari' Italy. 2009 she has been featured in Gina Bachauer's Festival Programm 'Music-In-Our-Schools" where she played and talked about music for around 3.000 children.
Luiza Borac has worked closely with several internationally renowned charitable foundations, including the Bachauer Foundation's 'Music In Our Schools' project, the MENORAH Project for the Jewish victims of Schaumburg-Lippe in North Germany, and a Romanian charity that supports orphans and street children in her home country. In November 2011 she became Ambassadrice de la Cité épiscopale of the UNESCO city of Albi, France, where she was awarded the Médaille d'Honneur for her dedication to Polio Plus, the largest global project of Rotary International for the worldwide eradication of polio.
On her latest recording, a double Disc Album released in 2013, Luiza performs Piano Music of Dinu Lipatti, together with the Academy of St. Martin-in-the-Fields. The recording which features a number of World Premieres was awarded 5 Stars by the BBC Music Magazine, Best CD of 2 Months and 18 Stars (max.) by the german leading magazine Piano News, Outstanding in the International Record Review, Album of the Week on Sinfini and Artsjournal and was extensively reviewed by Der Spiegel, WDR, Musicweb, Audiophile Audition, Irish Times and Pizzicato among others.
In March 2014 Luiza Borac was awarded a summa cum laude from the Music Department of the University of Bucharest for her doctoral thesis dedicated to the piano music of George Enescu.
Upcoming Concerts:
Luiza Borac has no upcoming tour dates. Please check back soon.