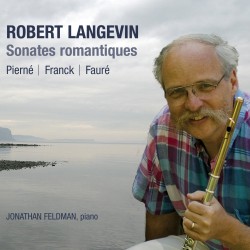 Artists:
Robert Langevin, flute
Jonathan Feldman, piano
Price:
£7.49 40% off - Limited time only!
Summary:
Avie continues its series of recordings featuring principal players of the New York Philharmonic with flautist Robert Langevin. Joined by fellow Philharmonic player pianist Jonathan Feldman, the Quebec-born Langevin gives flawless performances of three staples of the flute repertory. Though the Sonatas by Fauré, Franck and Pierné were all originally conceived for the violin, the composers sanctioned the adaptations for flute which fit the instrument perfectly naturally. Langevin studied in his native Quebec and in Europe. Prior to joining the New York Philharmonic in 2000, he was principal flute of the Pittsburgh Symphony and the Montreal Symphony, with whom he can be heard on over 30 recordings.
Tracklist:
Gabriel FAURÉ (1845 – 1924)
Sonata in A Major, Op. 13
1. Allegro den moderato (8:41)
2. Allegro (6:44)
3. Recitativo – Fantasia (3:57)
4. Allegretto poco mosso (5:46)
Gabriel PIERNÉ (1863 – 1937)
Sonata, Op. 36
5. Allegretto (9:10)
6. Allegretto tranquilo (4:39)
7. Andante non troppo – Allegro un poco agitato (8:07)
César FRANCK (1822 – 90)
Sonata in A Major
8. Allegretto ben moderato (6:29)
9. Allegro (7:56)
10. Recitativo – Fantasia. Moderato (7:13)
11. Allegretto poco mosso (6:12)
Total time: 74:52
Recorded May 2007 through April 2008 at Bicoastal Music, Ossining, NY, USA
Produced, Engineered and Edited by Daryl Bornstein
Assistant Engineer: Hal Winer