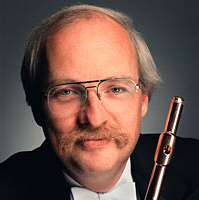 Biography:
Hailed by the New York Times for his "dazzling performance" and "beautiful solo playing", Robert Langevin is considered one of the most brilliant flutists of his generation.
Born in Sherbrooke, Quebec, Robert Langevin studied with Jean-Paul Major at the Montreal Conservatory where he was awarded a "Premier Prix" in Flute and another in Chamber Music in 1976. That same year, he won the national competition "Prix d'Europe" which enabled him to study with Aurele Nicolet in Freiburg im Breisgau and later with Maxence Larrieu in Nice and Geneva.
Upon his graduation, he joined the Montreal Symphony Orchestra as Associate Principal Flute with whom he played on more than 30 recordings. He was also a member of Musica Camerata Montreal and of "l'Ensemble de la Societe de Musique Contemporaine du Quebec" with whom he premiered many works and took part in the first Canadian performance of Pierre Boulez' "Le marteau sans maitre". Subsequently, he joined the Pittsburgh Symphony Orchestra as Principal Flute. Since 2000, he has been Solo Flutist with the New York Philharmonic.
As a soloist he has collaborated with such conductors as Charles Dutoit, Marek Janowski, Lorin Maazel, Kurt Masur and Pinchas Zuckerman. As a founding member of the "Philharmonic Quintet of New York", he has performed in the United States, Europe, and Asia. He has also played recitals and conducted master classes throughout Canada, the United States, Europe, Japan, North Korea, South Korea, Singapore, Taiwan, and Vietnam.
Mr. Langevin has been on the faculties of "l'Universite de Montreal" and Duquesne University. He is presently a faculty member of the world-renowned Juilliard School and Manhattan School of Music. He has given annual master classes at the Orford International Festival in Quebec since 1994, where he also regularly appears as soloist and chamber musician.