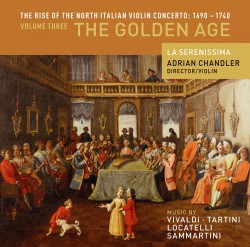 Title:
The Rise of the North Italian Violin Concerto Vol. 3: The Golden Age
Artists:
Adrian Chandler, director/violin
La Serenissima
Summary:
Born on Merseyside in 1974, Adrian Chandler studied both modern and Baroque violin at the Royal College of Music with Rodney Friend and Catherine Mackintosh. Whilst still a student at the RCM he founded the period ensemble La Serenissima with whom he has since performed numerous solo recitals and Vivaldi concerti in major festivals around the world.
His most recent CD releases feature virtuoso sonatas by Albinoni, Pisendel and Vivaldi (AV0018), Vivaldi Concerti and Arias (AV0031), religious concerti by Vivaldi (AV2063), the first two of three award-winning records (AV 2106 & 2128) charting the development of the North Italian Violin Concerto (NIVC) and Vivaldi cantatas and sonatas (Linn CKD 281). His performances have also been broadcast by BBC Radio 3, Radio Scotland, Dutch Radio, Radio 3 Belgium, Radio France, Danish Radio, Classic FM and Japanese TV.
Adrian was awarded a three year AHRC (Arts and Humanities Research Council) fellowship at Southampton University in order to research the development of the North Italian violin concerto between 1690 and 1740. The culmination of this project is the release of this CD, the third of the North Italian Violin Concerto series.
Tracklist:
Antonio VIVALDI (1678 – 1741)
Concerto for violin, 2 oboes, bassoon, 2 horns, strings and continuo in F, RV 569 (12:25)
1. Allegro (4:40)
2. Grave (2:55)
3. Allegro (4:50)
Pietro LOCATELLI (1695 – 1764)
Concerto da chiesa in c, Op 4/11 (10:16)
4. Grave (2:06)
5. Andante – Adagio (2:00)
6. Largo (0:56)
7. Largo Andante – Adagio (1:52)
8. Vivace – Adagio (3:22)
Concerto for 4 violins, strings and continuo in F, Op 4/12 (11:18)
9. Allegro (3:19)
10. Largo (3:51)
11. Allegro – Adagio – Allegro (4:08)
Giovanni Battista SAMMARTINI (1700/1 – 1775)
Concerto à più stromenti for 2 violins, 2 oboes, 2 horns, 2 trumpets, strings and continuo in Eb, J 73 (13:08)
12. Tempo Largo (7:09)
13. Tempo Giusto (5:59)
Giuseppe TARTINI (1692 – 1770)
Concerto for violin, strings and continuo in Bb, D. 117 (18:35)
14. [Grave] (1:19)
15. Allegro (6:56)
16. [Largo] (3:45)
17. Allegro (6:35)
VIVALDI
Concerto for violin, 2 oboes, bassoon, 2 horns, timpani, strings and continuo in D, RV 562a (13:06)
18. Allegro (5:28)
19. Grave (3:37)
20. Allegro (4:01)
Total time: 79:35
Recorded 13 – 16 February 2008 at the Wathen Hall, St. Paul's School, London, England
Recording produced, engineered and edited by Simon Fox-Gál