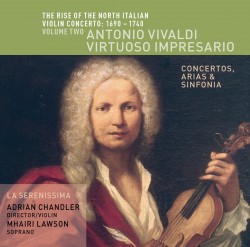 Title:
The Rise of the North Italian Violin Concerto, Vol. 2: Virtuoso Impresario
Artists:
Adrian Chandler, violin and director
Mhairi Lawson, soprano
La Serenissima
Summary:
Antonio Vivaldi was famously both a virtuoso performer and an impresario. The same can be said of Adrian Chandler whose passionate advocacy has associated him with the Red Priest's music like no other. Following last autumn's release of The Rise of the North Italian Violin Concerto 1690–1740, Volume One: The Dawn of the Virtuoso (AV 2106), which earned Chandler and his ensemble La Serenissima an Editor's Choice from Gramophone magazine, Avie offers the second in a three-volume series exploring the development of the violin and growing demand for virtuoso repertoire during the Italian baroque era, of which Vivaldi was undisputedly the zenith. Mirroring the highly successful format of Volume One, Chandler intersperses dazzling concerti with contemporaneous vocal works, illuminating these genres' effects on each other in Vivaldi's oeuvre. If Chandler's thorough research is a multi-faceted crystal, his performances are the rainbow-hued shaft of light brightly shining through.
Tracklist:
Antonio VIVALDI (1678 – 1741)
Concerto for violin, strings & continuo in B flat, RV 370 (12:22)
1. Allegro (4:30)
2. Grave (2:59)
3. Allegro (4:53)
Arias for soprano, strings & continuo from La costanza trionfante degl'amori e de gl'odii, RV 706 (10:34)
4. Sento il cor brillarmi in petto (3:29)
5. Hai sete di sangue (3:35)
6. Amoroso caro sposo (3:30)
Concerto for violin, 2 violoncellos, strings & continuo in C, RV 561 (9:33)
7. Allegro (3:35)
8. Largo (3:18)
9. Allegro (2:40)
Concerto/Sinfonia in e for strings & continuo, RV 134 (6:19)
10. [Allegro] (2:15)
11. Andante e pianissimo (1:53)
12. Allegro (2:11)
Concerto senza cantin for violin, strings & continuo in d, RV 243 (10:33)
13. Allegro 4:14)
14. Andante molto (2:39)
15. [Allegro] (3:40)
Arias for soprano, strings & continuo from La fida ninfa, RV 714 (12:08)
16. Dolce fiamma (6:43)
17. Alma oppressa (5:25)
Concerto for violin, strings & continuo in Eb, RV 254 (14:48)
18. Allegro poco (5:54)
19. Largo (3:30)
20. Allegro (5:24)
Recorded 4 – 7 March 2007 at The Warehouse, Studio 1, London
Producer & Recording Engineer: Simon Fox-Gál